The Summit, and its inspiration the HomeStory Cup, in a way embody everything that is great about esports. Can you imagine any other form of professional competition where the best teams from all over the world fly into California and all stay in the same house for an entire week, both competing for a huge prize pool and simply enjoying themselves? The Summit provides us with something larger tournaments strive to achieve, but often fail in doing: the feeling of really getting to know our favorite teams and players.
Even if The Summit is portrayed as a small tournament, you can't ignore its sizeable prize pool. This year, so far, the community has managed to boost the prize pool from $100,000 to almost $270,000. So if any teams had been saving strategies throughout StarLadder and Red Bull Battle Grounds, this is the tournament where it's time for them to show their hand.
The Summit also has several interesting storylines. This week we will see EG play their first competitive game in nearly a month. Team Secret is coming off of a strong performance at Red Bull Battle Grounds where they narrowly managed to edge out another team at The Summit, Invictus Gaming, in the finals. You can bet on the fact that iG is hungry for an outright win this tournament after finishing in second place at two consecutive LANs. Lastly, you have VG, the other team responsible for the Cloud 9-esque placements from iG. After the StarLadder finals voices around the community were already crowning fy & co. as the TI5 champions. But after a surprising, and rather one-sided, 3-0 loss to Empire in the finals at D2CL last weekend one must ask if there is trouble brewing for the green machine.
Groupstage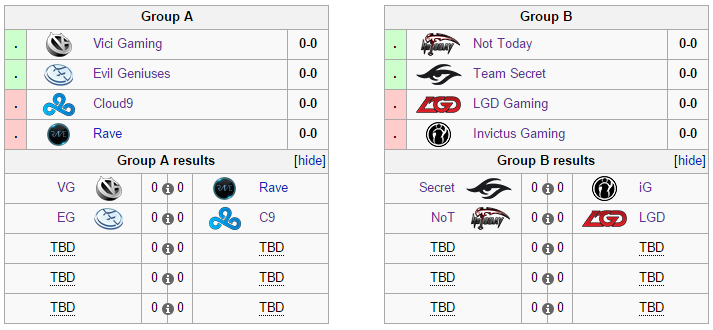 The groupstage will use the GSL format which means that each group is a double elimination bracket without a grand finals. The two top teams advances.
Power Rank
1. Team Secret
---
Even though there were rumours about Secret not practicing for Red Bull Battle Grounds, no one can say that their performance in the finals was anything short of impressive. The team seems to have found their way of playing Dota now, which is why they top these rankings.
2. Vici Gaming
---
Vici, unlike Team Secret, turned in a very poor performance this past weekend. Empire successfully shut the Chinese powerhouse down 3-0 in the finals of D2CL. And even if Empire is a quality team, getting 3-0'd by any team is never a good sign. Hopefully this will be VG's inspiration to perform well in LA. But we still believe that Team Secret will be too big of a bite for them this week.
3. Cloud 9
---
"Always the bridesmaid, never the bride" is pretty much the slogan for Cloud 9 these days, a team that has made a living off finishing second and third in tournaments. Last time we saw Cloud 9 on LAN they lost a very close series to Invictus Gaming at StarLadder XII. Jacky Mao and his boys will have to perform at the top of their abilities this weekend if they don't want to go home disappointed. But we feel like C9 has it in them to make their way to another third place.
4. Invictus Gaming
---
The number two comes to mind when discussing iG right now. Two weeks. Two tournaments. Two second place finishes. It must be frustrating playing for iG right now. You cannot complain about the quality of the team or the plays they have made (see: game two at Red Bull Battle Grounds vs. Team Secret). But we think this second place curse will end with The Summit. Unfortunately, we don't think it's going to be a happy ending. While it's completely possible they can give Cloud 9 a run for their money, we don't think they will be able to triumph over them in a Bo3.
5. LGD Gaming
---
LGD is a team that we are having a hard time placing. The last few months have been an endless roller coaster for the star-studded Chinese team. One week, they are able to beat the best, but the next week, they turn right around and drop games versus far lesser teams. This inconsistency combined with their lack of LAN appearances is what keeps them this low in the rankings.
6. Evil Geniuses
---
If you ask us, EG is truly the dark horse of this tournament. No one, outside of their scrim partners, can know where the boys in blue stand. EG has not played a competitive game in close to a month. In the current Dota 2 world, where we see the best in the world play on a daily basis, this is almost unheard of. As we have no way of telling their current form, and especially with a new balance patch bringing major changes to the game, we've decided to keep EG out of the top five.
7. Not Today
---
Not Today is the returning crowd favorites. Last year the team managed to make a big splash as the Dota 2 community as a whole decided to come together and give the MVP award to Freddy "SmAsH" Sina. Not Today got in through the American qualifier where they managed to take a game off EG. But that's as far as we think they'll go. In the groups, they will run into the brick wall that is Team Secret, LGD and iG. However, we'll all be hoping for an upset from the Peruvians!
8. Rave
---
When the invitees for TI5 were announced, Rave must have felt robbed. Many compendium owners figured that Rave was the team that deserved the SEA region invite to Seattle. Although that does not matter in The Summit, Rave must be excited to come to LA and compete with the best regardless of their invite status. It's certainly the best possible practise they can get for the extremely tough TI5 qualifiers. Unfortunately, we sincerely doubt that they will be able to take a single game off of VG, EG or C9.