VG in the drivers seat
After day two of the SLXII LAN Finals the first finalist of the event was decided: Vici Gaming. Vici's aggresive playstyle was out in full force today, especially in their final game against iG. VG managed to crush iG in a quick game which lasted less than 20 minutes, and considering the average game length in the past couple of days this was really impressive to watch (and a breath of fresh air).
However, the biggest stories throughout the day have been the eliminations and upsets. During day one, Team Secret was sent to the losers bracket by Team Malaysia, which was something lots of fans did not predict. Fans may have brushed this off as a one-time thing, and many predicted that Secret would tear through the lower part of the bracket and still claim a place in the finals. But instead of a magnificent comeback (like Seabiscuit, The Mighty Ducks, Robert Downey Junior, Rocky, or Kim Kardashian) we saw a Team Secret who seemed lost. After a very strange draft versus Alliance in game 1, and then refusing to ban Pajkatts Sniper in game 2 they were out of the tournament, bringing shock to everyone.
The next upset came in the very next round of the losers bracket as Team Tinker managed to pull off a 2-1 win against Team Malaysia, who you may remember beat Team Secret convincingly the night before. In the other elimination game Alliance lost out to Cloud 9, which was maybe some small payback from EternalEnvy for all the time the tables have been reversed.
With Cloud 9 beating Tinker 2-0 the same way they did earlier in this event, the night was over. Tomorrow we head into the championship matches with the three remaining teams: Vici Gaming, Invictus Gaming, and Cloud 9. On their way to the finals VG have managed to beat both iG and C9. It's too early to crown them the kings of Bucharest, but the prospects are looking good for iceiceice and the boys in green!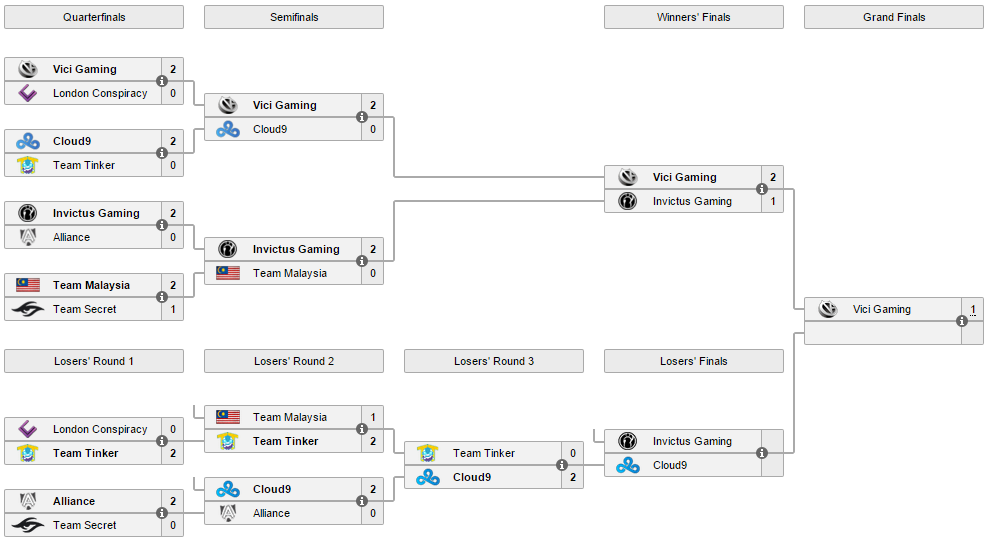 Game of the day
---
CREDITS
Writer: Julmust
Editor: Sn0_Man
Graphics: StarLadder Official