After a somewhat bumpy start to the tournament, with cockroaches and electrical fires, the Major All Stars managed to pull through and give us a weekend filled with great games. Going into the weekend there were several questions Dota 2 fans asked themselves. How good is the new iG? Was Rave's run through DAC just a fluke? Will any of the other SEA teams step up and show the Europeans and Chinese that their scene is underrated?
iG certainly gave us a very clear reply to the first question. They are back! Not only did they win the entire event, they did so in a very convincing fashion. Throughout the tournament they only dropped one game, the Winner Bracket finals versus Team Empire. But it took a performance out of the ordinary, with a 25-5-15 KDA from Empire's Resolut1on in order for that to happen. Once they faced Empire again in the finals, the CIS squad had no chance.
Although they walked away with the trophy, it is worth mentioning that this tournament might not have been the best way to measure where iG stands at the moment compared to other top TI5 hopefuls. The teams they beat are not the worst in the scene, but in order to truly know where they stand they will have to play better opposition in their upcoming matches. NiP have been taking games off Tier 1 teams lately, although it is still debatable if they are to be counted as one themselves. Empire has won tournaments in the last few months, but failed to even qualify for DAC 2015.
This tournament wasn't just created so that iG would have a few sparring partners to get up to speed. Fans had hoped that the SEA scene would get a chance to show off their talents. Having one team make a deep run would be huge for the scene, even if the tournament wasn't as star packed as DAC. Going into the tournament everyone thought that Rave would be the big SEA hope. But after the first round none of the SEA teams had moved on. Not only that, but only one of the four SEA teams, Rave, even managed to take a game off their opponents. So after the first round of the losers bracket half of the SEA teams were eliminated. And things only got worse from there on. The great American hope NiP beat Invasion 2-0 and after Na`Vi easily dismissed Redemption the nightmare became true; all four SEA teams had placed at the bottom of the standings.
The Final Bracket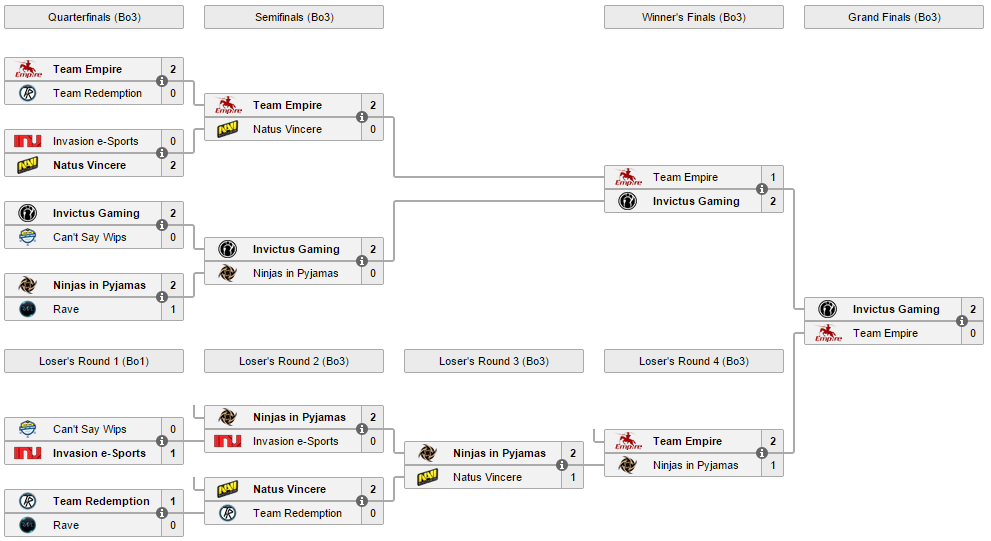 ---
CREDITS
Writer: Julmust
Editors: TheEmulator
Graphics: Julmust