The Major All Stars Dota 2 Tournament LAN Finals are here at last. The event will take place from the 20th-22nd of March in Kuala Lumpur, Malaysia inside Stadium Malawati. The $100,000 tournament unfortunately did not have much luck selling tickets as the total prize pool now stands at $104,351. All of the matches will be Bo3 except for the first round of the losers bracket, which will be Bo1, and the Grand Finals which will be a Bo5. Although Evil Geniuses, Vici Gaming, Secret, and Cloud 9 will all be absent, we will have the new iG featuring Burning and Faith facing off against Rave, the team that beat them at DAC 2015. eHug, the winners of the NA Qualifier will also be unable to attend, and so in their place to represent America will be NiP, to go up against the likes of Empire and Na`Vi from Europe. With clear favorites in iG followed by Rave and Empire, the first major event since DAC might turn into a blood bath as teams try their best to impress before TI5 invites start to make their rotations this spring. Upsets might find their way very easily into the Major All Stars as many teams have recently made roster changes, and might not be at their peak form as of yet leaving room that the stable teams might be able to take advantage of.
Games start in:

The Teams

Na`Vi - In Phobos We Trust
---
After surprising many of us during the group stage of DAC 2015 with a top 8 finish, Na`Vi have struggled tremendously to regain their footing and try to take hold of a stable place among Europe's top contenders. With Funn1k departing from the squad, the fresh but not quite new blood DkPhobos takes his place in an attempt to reinvigorate the team. This will be a proving ground to see if they have what it takes against international competition as we close in on TI5, and largely a test to see if Phobos made the right call leaving Asus.Polar to join Na`Vi.

NiP - The Hope of America
---
NiP will be taking the place of eHug, the winners of the American Qualifier to join the rest of the teams in Kuala Lumpur. As strange as it might sound we will count on the boys from NiP to defend the North American scene to the best of their abilities (even though they are Euros). NiP is coming in fresh off a win in the Esportal Invitational 3 and will try to keep the momentum rolling as they head into this event. They are a strong contender to go up against the likes of iG, Empire, and Rave to fight over who will be making it into the Grand Finals.

Empire - Hunters or Hunted
---
The CIS powerhouse is entering Major All Stars entirely untouched during the recent shuffles, and coming off a strong beginning to 2015 with 1st place finishes in both the JoinDOTA Masters and Starladder Season 11 Finals. The only blemish on their record is a rather large one as they failed to make it to DAC. That aside they have been rather dominating in their games lately, and look to challenge top contenders Rave and iG to see exactly how they stack up to the international competition.

iG - Uncrowned Kings
---
iG is back and stronger than ever with Burning and Faith joining Chaun, Luo, and Ferrari_430. It would be fair to claim they are the favorites to win the tournament by no small margin as they look to lay claim to their first victory of 2015. After losing to Rave at DAC I'm sure Chuan, Ferrari_430, and Luo are looking for vengeance and will be coming prepared to face them with their game faces on in Malaysia.

Invasion - WTF
---
And by that we mean dabeliuteef will be joining Invasion in time for this tournament as he joined the squad on March 12th, 2015. Although they are not favored to win they will definitely be looking to prove themselves on home soil, especially after being one of the invited teams to the tournament. They might just be able to pull off an upset if the stars align inside the stadium with the backing of a home crowd.

CSW - Aussie Pride
---
Much like Invasion, CSW are looking to prove themselves against some of the best teams in the world, but had to get to the event the hard way as they got in through the SEA Qualifiers. 343 will be their relatively new addition to the team as kPhoenii joined MVP Phoenix in January. We will have to wait and see how he performs to say how well CSW can do.

Rave - A Continuation of DAC
---
The second invited team from SEA is Rave. After their incredible finish at DAC where they managed to take down iG 2-1, they will be looking to continue that trend and are possible favorites to win the whole event. Coming off the back of recent victories they've also claimed themselves spots in The Summit 3 and MLG Columbus. They've quickly become a team that is capable of taking out greats like iG, but Major All Stars will present more challenges to them and we will be looking forward to whether they can overcome them again.

Redemption - Redeemed?
---
Formerly known as Arrow Gaming due to a match fixing scandal that shook the SEA region quite badly, Redemption have had some time to reflect on the scandal and are looking for redemption (coincidence?). They managed to make it through the SEA qualifier to participate in the tournament, but I advise caution if you are going to try to place any bets on their games...
The Brackets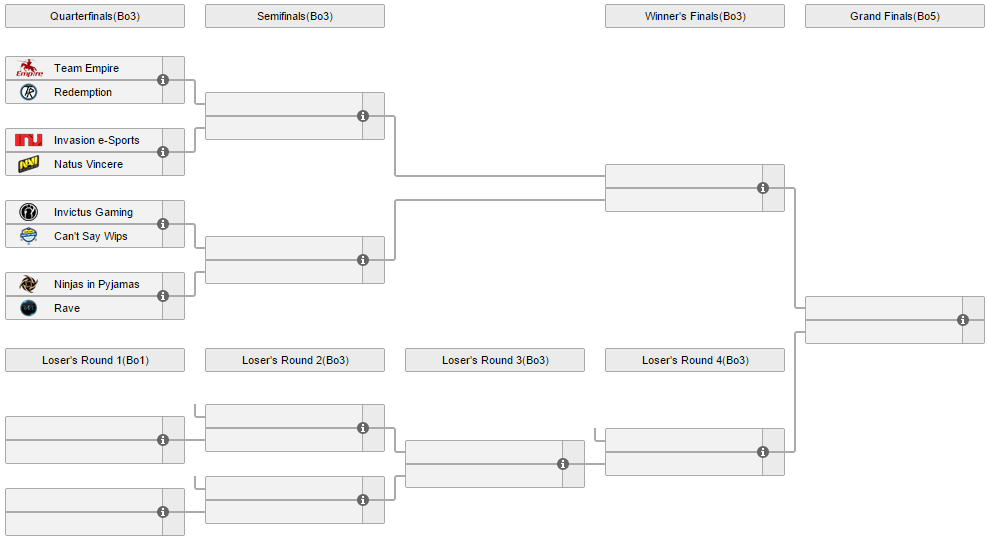 ---
CREDITS
Writer: OmniEulogy
Editors: TheEmulator
Graphics: Julmust