In this guide I will teach you how to win more games by changing the way you think about matchmaking as a player. Herein you will find fundamental principles of competitive psychology as they relate to solo matchmaking in Dota 2. This guide is geared towards improving your MMR through your mindset, and as such the points I make will be purely focused on helping you win games. However, I hope that if you follow this guide it will help you develop into a rational, positive player, and empower you to improve both your enjoyment of games and your skill as a player.
Preface
My name is Dash, I have been playing DotA for close to 10 years now, since Warcraft 3 DotA. I have played in in-house leagues in Australia such as IDL on the Australian server, Bored Aussies, and more recently IXDL-I, as well as on various teams on AUS and SEA. Currently I live in Japan and play on the SEA server. My current MMR is 4900, though I have reached a peak of 5000. The ideas in this article are a combination of my own thoughts, as well those taken from others (who I have made an attempt to cite where possible).
Overview
The key to winning games in solo matchmaking is being a robust player. A player who is flexible not only in their personal ability, but in their perception of the games they play; a player who is capable of reaching a high MMR much more easily than a rigid player relying on skills or gimmicks alone. That is not to say that individual ability cannot achieve the same results; however, the journey becomes far easier with a strong mindset and methodical approach to matchmaking. Most importantly, changing your mindset in this way is FAR easier than improving your mechanical skill as a player, and you will see that many of the principles in this guide involve making easy-to-implement mentalities in the way you approach matchmaking.
Whereas a player may take years to improve their mechanical skill, discarding bad habits in the way you perceive the game can be done immediately. Even the worst of habits can be "unlearned" in a matter of weeks or months. In this guide I will teach you fundamental principles which you can adopt when playing matchmaking that will enable you to maximise your wins, minimise your losses, and positively influence the players that you play with.
This guide is divided into three parts:
In
Part 1
we will discuss the huge influence of perception on how you approach matchmaking. We will also discuss common complaints and misconceptions about matchmaking and address their relevance.
In
Part 2
we will explore common hurdles players encounter in matchmaking, why they occur, and how to be vigilant in order to identify when you experience them.
Finally in
Part 3
we will discuss building a strong mindset which is resilient to the common pitfalls of perception, maximizing your ability to win, enjoying your experience, and integrating your passion for Dota into your life in a healthy way.
What is Skill/Misconceptions in Matchmaking
1. What is skill?
Many players experience frustration because they believe their MMR is not proportional to their skill level. This frustration can be attributed to each player's interpretation of what skill is. Skill comes in many forms, be it mechanical skill (such as last hitting, juking, timing),game sense, strategy, mental resilience, focus and finally (and most overlooked) the ability to manage interpersonal relations. Aspects such as mechanical skill are easy to comprehend as they can very often be viewed objectively; for example a player who is able to reach a cs of 80 in 10 mins as a safelane farmer is obviously mechanically skilled.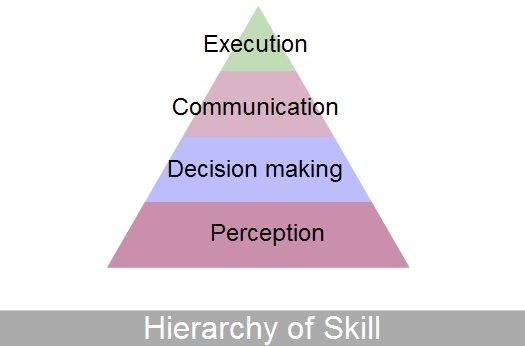 It is important to understand that although your own personal skill affects your ability to PLAY the game, it is not the only factor influencing your ability to WIN a game. Learning how to control the other aspects that determine whether you win a game is just as important as playing well yourself. Dota is a team game. As such, you are limited by your strategic decisions, and how you communicate those decisions with your team. Furthermore , your strategic decisions and communication are influenced by your perception; be it perception of the game state, the heroes, or the players you are playing with.
Your perception of the game underpins every single decision you make and every single consequence that comes as a result of those decisions. Having a good understanding of the biases in your perception is key to being able to analyse and improve your play.
2. Regression to the mean and MMR attenuation over time.
If you haven't heard of the term "ELO hell," you probably live under a rock. For as long as matchmaking systems have existed, so too have there been people who complain about their rating being inconsistent with their skill level. This is usually justified by a combination of the following:
Noobs feeding/variations there of: Everyone has had a game where someone last picks Meepo with no lane to go to, and feeds 1-10 for an ez loss. If I had a penny for every time one of my friends complained about idiots on their team I could build a bridge long enough for them to get over it.

Pinoys/Peruvians/Russians/(insert racial stereotype here) flaming/trolling and causing infighting: This is similar to point 1, where factors 'out of your control' lead to losses, and flaming/infighting causes feeding, trolling and an inability for players to cooperate.

Abuse of overpowered heroes: At the time that I'm writing this, Juggernaut is the flavor of the month. efore that it was Faceless Void. Needless to say there will always be 'skilless pub heroes' which are commonly picked and are perceived to allow players of lower skill level to 'steal' wins from you.
These are problems everyone encounters in matchmaking; at the time that I'm writing this I'm currently on a ten game losing streak, and the compulsion to fall back on the comfort of blaming the above for my losses is very strong. However, what separates those who bounce back from losing streaks and those who continually spiral downwards is a positive mindset guided by a good understanding of how the matchmaking system works.
The effects of these issues essentially factor into your MMR as a component of luck. Assuming you are solo queueing, you will be playing with 9 random people. If you are unlucky you will get the feeder/noob/rager who throws the game; and if you are lucky the other team will get the feeder/noob/rager on theirs.
The video below on regression to the mean does a better job than I can of explaining that over time, the amount of games thrown by a player on your team vs the amount of games thrown by a player on the other team will even out to 50%. In fact, assuming you never throw yourself and play perfectly (i.e. in the ideal system) then there are only 4 potential game throwing players on your team as opposed to 5 on the other team. Thus, statistically, luck is in your favour if you are an exceptional player. The same is true for abuse of overpowered heroes, and again, if you commonly pick these heroes, then statistically luck is in your favour.
This shows that luck does not (negatively) affect your long term MMR. However, the way you respond to changes in luck, and how luck affects your perception of the game, can have profound effects on your long term MMR. We will discuss the details of this in Part 2.
3. Factors directly affecting MMR
In his recent 'Pub mentality' video blog, Aui_2000 outlines MMR as 'strictly a measure of your ability to win a game'. Furthermore, Day[9], in another video explains that rating is not a measure of skill, but rather a measure of progress. That is to say,MMR can be reflective of skill, but it is not necessarily a measurement of skill. It is simply a measurement of your progress in the quest to learn how to win games. Following on from AUI's video on pub mentality, there are only 3 broad categories for improvement that will lead to your MMR increasing:
Play better yourself- Have better map awareness, choose better items, pick heroes more appropriately, CS better, etc.

Make your team play better- Diffuse arguments, avoid starting fights, and communicate effectively with your team so it's easier for them to play.

Make the other team play worse- Troll, pressure or otherwise mess with the other team (in a way that doesn't impede on your own team) so as to make the other team perform worse.
Note that these 3 categories make no mention of how well your teammates play, or of any other expression of luck in your games. Your perception, however, will affect your ability to thrive in these categories. In Part 2 we are going to discuss the common issues of perception players encounter in matchmaking, which we will attempt to remedy in part 3.
Dota, perception and you: How your attitude and perception affects your win rate
Dota is not an ideal system, and it is important to realize that there are many factors which influence your games. In part 3 we will discuss strategies to maintain a strong mindset, but first, let's discuss some negative mental states which can impede your progress.
There are many factors which can negatively influence your perception. However there are 3 major, and intimately related concepts on which I want to focus. Even if you struggle to avoid these pitfalls, awareness is half the battle. I guarantee that if you are aware of these negative mental states, you will not only play better, but you will substantially reduce significant downswings in your MMR.
1. The Dunning-Kruger effect
What analysis of perception could be complete without talking about this bad boy? The Dunning-Kruger effect is a very well-known concept in sports psychology, and old favourite buzzword used in flame wars in pubs and forums alike. Essentially, the Dunning-Kruger effect occurs when a player lacks sufficient understanding of a concept or strategy. The end result is that they are unable to explain why a game has a certain outcome or why a person plays a certain way, and thus justify it in their own, incorrect way.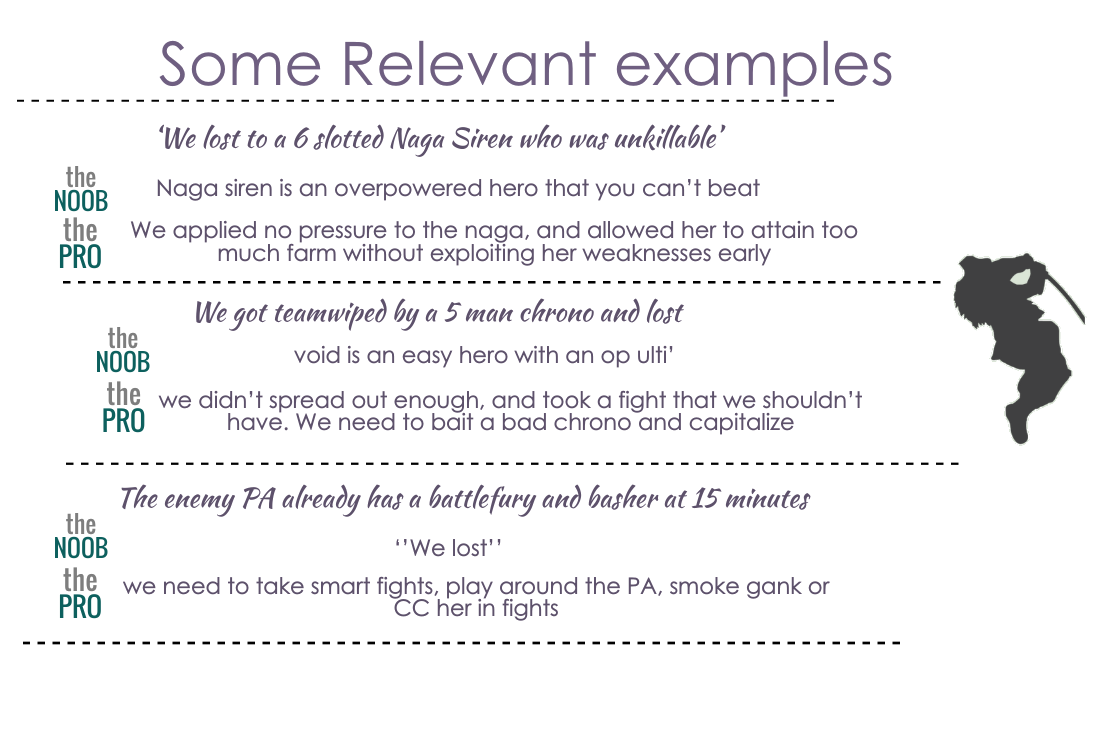 The Dunning-Kruger effect stifles improvement due to an inability to learn from losses (See part 3- Investing in loss). The Dunning-Kruger effect is very closely related to confirmation bias. It is the root from which confirmation bias grows, where over-attention to one aspect of the game can lead to false conclusions. This in turn leads to tilting, due to feelings of frustration and helplessness.
2. Confirmation bias.
Tell me you haven't been in this situation before:
It has been a nightmare week of Dota, every game some idiot insta-picks a carry and goes 0-10, no one buys wards and every game is a struggle. We lose every lane and it seems certain that some noob is going to throw every game I play.
As we discussed in Part 1 when we talked about regression to the mean, losing streaks like this will happen. Sometimes you just get incredibly unlucky. However, oftentimes you may not be as unlucky as you think. They say that people looking for an argument will always find one- this is particularly true for Dota. Confirmation bias is our tendency to look for evidence that supports trends we are experiencing (and ignore evidence that does not); so when were are losing a lot of games to idiots, we see idiots everywhere. A similar effect can occur when observing trends in heroes wins, where a crushing loss to a particular hero leads you to pay particular attention to that hero in future. This can impede your analysis of the game, where over attention to one particular hero in the game can cause you miss more nuanced factors which contributed to the loss, and lead to false conclusions. Most importantly, the problem with confirmation bias as it relates to your MMR is that it can cause tilting, and thus must be managed to minimize losses.
3. On tilt
Tilting is the number one cause of exceptional drops in MMR. Wikipedia describes tilting as 'state of mental or emotional confusion or frustration in which a player adopts a less than optimal strategy.' This is a common problem that occurs when players encounter losses resulting from bad luck as described in part 1. When you tilt, you play worse. You can also cause players on your team to play worse, which makes you more likely to lose games and thus your MMR decreases. Tilting is the observable effect which occurs when confirmation bias overwhelms your ability to think and react logically. In part 3, we will discuss how to develop a mindset that keeps you from going on tilt.
Building a better mindset
Aside from my time playing Dota, I like to dabble in other sports such as weightlifting and billiards. These sports have been invaluable tools for learning mental resilience, as anyone involved in either of these sports knows how much your mindset can affect your performance. For example in billiards, the effects of mental fatigue or instability can have devastating effects on the outcome of a match, where the tiniest lapse of focus on a single shot can literally lose you the entire match. The same is true in Dota, where one play can blow a game wide open, or throw an almost unlosable game. In this part I will discuss ways to alleviate mental stress, and how to build good habits in your perception, so that when the time comes to make plays, you can deliver under pressure.
1. On defeatism, and strategies to avoid the downward spiral
Part 3 is about strengthening habits that lead to wins, and breaking habits that lead to loses. In essence, the take home message here is 'if it doesn't help you win, don't do it'. The importance and implications of this idea cannot be understated. The successful Dota player is adept at identifying circumstances and emotions which have a negative effect on their game play, and attempts to subvert them.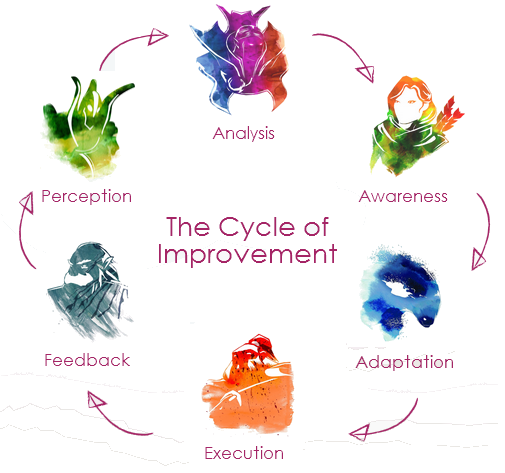 Fig 1. The Cycle of Improvement- This is the model of a player with a mindset focussed on improving. Note how perception is the focal point of the cycle; where your perception of the game directs your analysis of the game and awareness of problems. This, in turn allows adaptations to be implemented into your playstyle. Finally, the results of this feed back into your perception, completing the cycle.
The number one thing I notice, and have experienced myself, when it comes to matchmaking is defeatism. It may be comforting to act victimized: to find someone or something to blame for your losses. It may be comforting to believe that the odds are stacked against you and any shortcomings you encounter are not your fault, but are the result of bad luck or some sort of karmic injustice. However, at the end of the day you are the one in the driver's seat. If you don't take control of your emotions in a positive way, you are doomed to repeat the same negative cycles in your games and elsewherein your life. Yes, it can be difficult, but if you are dedicated to improving, all you need to do is ask yourself whether these feelings function to help you achieve your goals, and the answer will be clear.
In Josh Waitzkin's The Art of Learning, the author discusses a concept he calls 'The Downward Spiral'. The downward spiral is the effect of negative feedback influencing a player's performance. In terms of Dota, it is the tangible effect of tilting on your MMR. Undoubtedly, the troves of regular posts on message boards and the like complaining about unreasonable losing streaks are the result of players falling victim to this mental trap. It is also the reason for the existence of the term "ELO hell," which stems from the frustrations that occur when players fall into this mental state.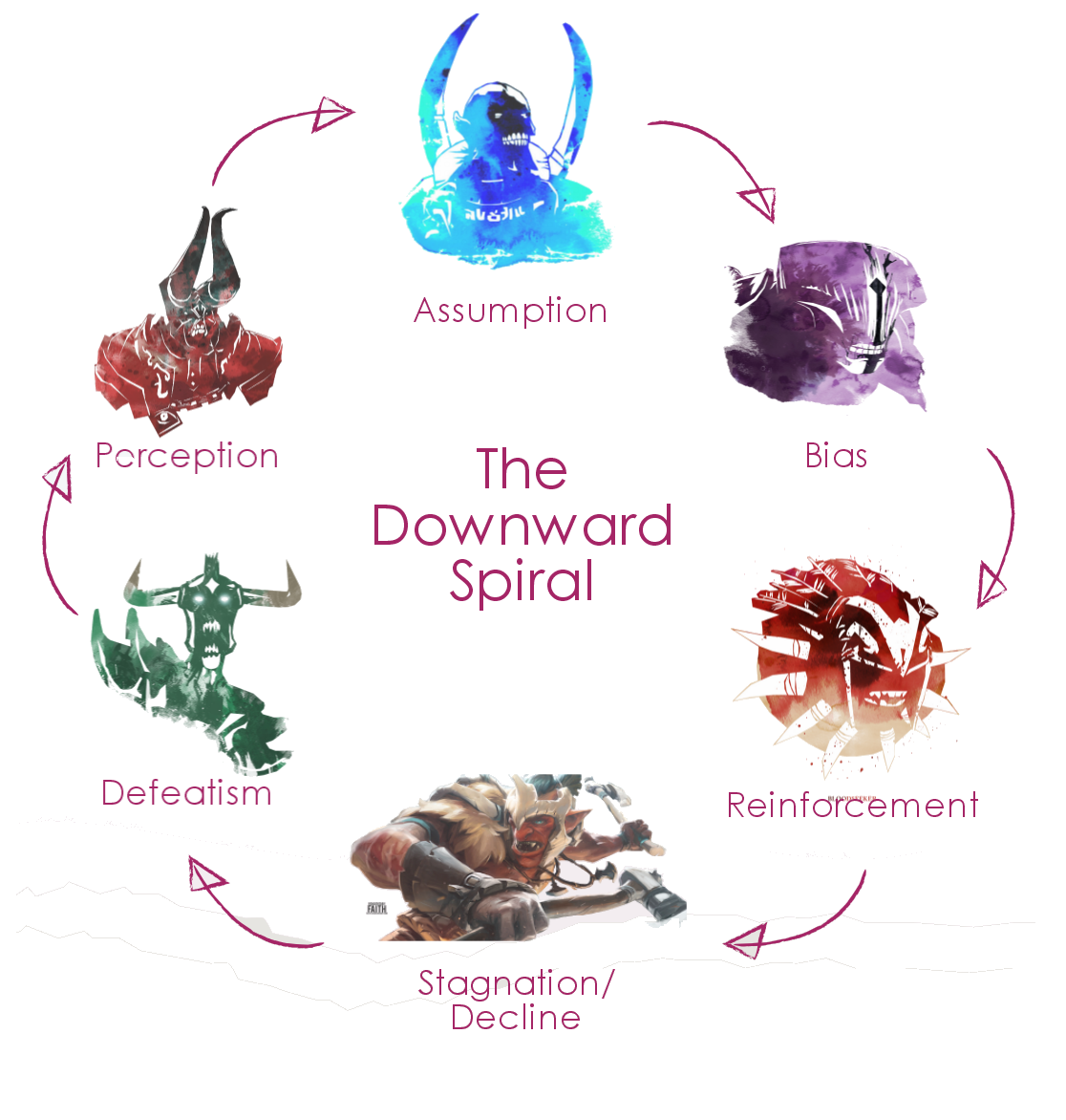 Fig 2.- The Downward Spiral- This is the model of a player who allows themselves to become overwhelmed with stress and frustration. This time perception is altered by the duress of matchmaking, leading to brash assumptions and biases. These in turn are reinforced in a change in your play style, leading to a stagnation of progress, decline in MMR and a defeatist attitude. Finally, this negative attitude feeds back into your perception and perpetuates your decline.
Playing at a low MMR can be frustrating, but let's use an example to learn how to avoid the pitfalls of the downward spiral with a positive mindset:
Say I give Dendi a 1K MMR players account. It is reasonable to assume that he is going to be able to achieve almost a 100% win rate on that account until the MMR rises significantly. That is to say, Dendi could 'boost' that account out of the 1k bracket. If Dendi played at a 6K level instead of a 7K level,he would probably still be able to boost that 1K account, but maybe his win rate would be closer to 90%, so it would take longer. Extrapolating that out, the 5K player would take longer than the 6K, the 4K longer than the 5K, and so on. The point is that if you are indeed playing above the skill level of your bracket, your MMR will increase over time- it may just take a whilee.
This is the mindset you need to avoid the downward spiral. Rest assured that as long as you focus on PLAYING better and improving, losing streaks will not be relevant in the long term as long as you don't go on tilt.
2.b. Getting off tilt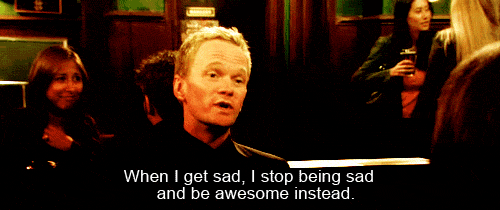 Tilting can be a big problem in a competitive setting, as players on a bad run have no choice but to keep playing; and if they are on tilt, they keep losing. However, as a player who is playing solo matchmaking from the relative comfort of their own home, you do not have that problem. So if you feel you are on tilt, the answer is to stop playing ranked matchmaking. However, if you are anything like myself, you have a lot of inner drive to continue playing, and you may be unsure whether you are on tilt and need to stop. The signs of tilting can be very subtle, and tilting can have very subtle effects on your performance, but can lose you a lot of games. Signs you are on tilt include:
Increased irritability

Tiredness/Lack of enthusiasm

Increased negativity

Lack of focus/Sloppy mechanics

Oversight/Uncharacteristic mistakes
Again, the above may not be as obvious as all-out keyboard slamming rage, but they WILL lose you games, and you should avoid them like the plague. If you notice any of these signs, take a break. Play unranked, go outside, watch a movie, etc. Give your brain time to recover. As you progress you will also learn the moods which make you likely to go on tilt; personally, I know when I'm not enthusiastic to play Dota (and am playing more out of compulsion than genuine desire) I tend to play half-assed and go on tilt easily, so I simply don't play ranked.
In case you couldn't tell, I'm a big Day[9] fan, so here's another amazing video from him on how to implement positive thinking in your life, which I guarantee will help you if you struggle with tissues of tilting, defeatism or negativity:
"Courage doesn't always roar. Sometimes courage is the little voice at the end of the day that says I'll try again tomorrow."
- Mary Anne Radmacher
3. Accepting reality, and allocation of mental effort
If you spend enough time on /r/dota2, you will find it is very easy to get sucked into a thread about how the matchmaking system in Dota is 'broken'. The problem is that ideas like this can spill over into your perception during games, and severely divert your focus. As I explained in Part 1, most of these arguments are irrelevant to increasing your MMR, and your mental energy is best expended elsewhere.
Every person only has so much mental focus they can expend when completing a task. Take, for example, last hitting: a veteran player has spent so much time practicing how to last hit that the process becomes automatic.It does not take the player conscious effort to complete the task, and so the player is able to focus on other areas of the game, such as decision making and map awareness. The same is true for your mindset when you enter a game- if you are too caught up in negative emotions or if you are focusing too much on factors you can't control, very little mental energy remains for actually dealing with factors you can control. So, when someone picks that OP hero, don't expend your effort complaining, but rather spend it rallying your team, or finding ways to deal with the hero. When a player starts flaming, don't go on tilt. Find a solution that will re-establish harmony on your team. It might be impossible, but it's not going to decrease your MMR to try, so why not?
The reality is that you will have good days and bad days, winning and losing streaks, and so will the other players you play with. The successful Dota player is one who is able to accept those realities, and rather than wasting their mental energy dwelling on unfairness, refocuses their understanding of these realities in a way that actually improves their play- being able to better predict the actions and thoughts of teammates and enemies alike.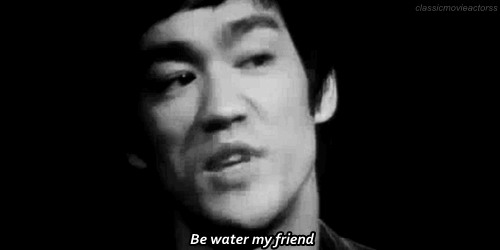 ''Empty your mind, be formless. Shapeless, like water. If you put water into a cup, it becomes the cup. You put water into a bottle and it becomes the bottle. You put it in a teapot, it becomes the teapot. Now, water can flow or it can crash. Be water, my friend."
-Bruce Lee
4. Making smaller circles- How to win more and think less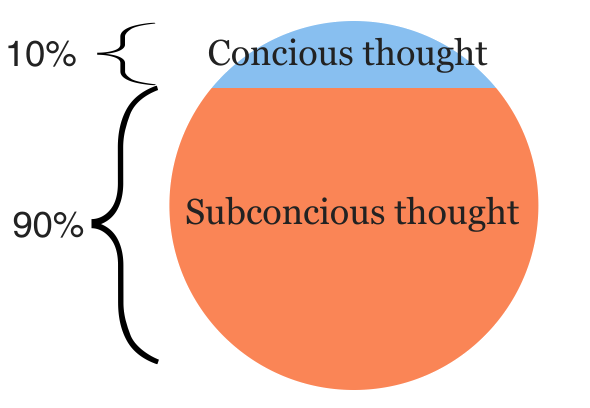 I'm also a big Josh Waitzkin fan, so if you haven't read his book The Art of Learning then I highly recommend you do so. One of the big concepts in his book is called 'making smaller circles'. This is a concept that was invaluable to me as I was progressing as a billiards player. The mind is only capable of a certain amount of conscious thought at one time; practice is the process of repeating conscious tasks until they become tasks that can be achieved subconsciously. For a billiards player, mastering a straight stroke and perfect stance are critical to executing a shot. The highest level players are able to move in a precise and controlled manner without the slightest conscious thought, allowing them to give full attention towards making strategic choices.
EternalEnvy is a shining example of this concept at work. The role of the captain is mostly commonly held by supports, which generally have fewer strict mechanical tasks to complete such as last hitting. Your boy Jacky Mao plays the carry position for Cloud9 and is able to maintain a high level of farm whilst leading his team by making farming a subconscious task. Lower skilled players actually spend more time ACTIVELY thinking about mechanical tasks than higher level players. By practicing 'making smaller circles' you alleviate mental stress, and can play better, for longer.
''In both fields, players tend to get attached to fancy techniques and fail to recognize that subtle internalization and refinement is much more important than the quantity of what is learned….It is rarely a mysterious technique that drives us to the top, but rather a profound mastery of what may well be a basic skill set. Depth beats breadth any day of the week, because it opens a channel for the intangible, unconscious, creative components of our hidden potential.''
-The Art of Learning
This is another one of the many reasons your number one focus when you play matchmaking should be how to improve. When you dedicate time to practice, you make the game easier for yourself; the impacts of gimmicks, OP heroes, and bad teammates pale in comparison to the effect of truly strong fundamentals and game sense.
5. Losing to win and how investing in loss conquers ladder anxiety.
No one ever learned anything from a pubstomp. Sure winning a 30-0 pubstomp will increase your MMR and make you feel like a pro, but you would learn very little about the game if every win was like this. In a similar vein, those hard-fought wins, close games where you barely get away with a victory, give many opportunities to learn. As such, a loss, or a crushing loss is a figurative gold mine for learning. Trial and error is a long established way of learning that we use even as children. Losing is a very good way to find out that a particular way of playing does not work. Always look for things you did that didn't work, so you can turn that learning into future wins. In 'The Art of Learning' Josh Waitzkin calls this concept 'investing in loss' or 'losing to win'. Keep in mind that although some of your losses are the result of your teammates' blunders, there may have been a way for you to minimize their mistakes, whether it was giving them space to farm by improving your own farming patterns, or rallying their morale with strong leadership. Don't immediately attribute a teammate's mistake as something completely out of your control.
Learning how to properly invest in loss is extremely challenging; it takes character and resolve, especially for those with strong emotional habits tied to losing such as angst, anger, and defeatism. But I promise if you learn how to invest in loss, it will strengthen your character and not only will it help you stay off tilt when you lose, but it will also help you maintain your composure when you are on the back foot during a game.
''Growth comes at the point of resistance. We learn by pushing ourselves and finding what really lies at the outer reaches of our abilities''
-Josh Waitzkin, The art of Learning
When you focus on investing in your losses, losing stops being scary, and ladder anxiety becomes a thing of the past.
Conclusions, strategies for success
It is important to keep in mind that Dota is played by people, who are subject to the same challenges that you are. Any player, be it yourself or others, will have days where they play significantly better or significantly worse than their average skill level. We have covered the many ways you can control your own mental state, and maintain your own consistency and improvement, but you are only 1 person in a 10 person game. Although you can't strictly control whether your teammate plays badly, it is possible to influence their play with your own to make them play well, or, at the very least, play less horribly. Part of your analysis of games should be to look at the players on your team who you noticed playing badly and to ascertain what the cause of the poor play was.
There are many reasons that a player could be playing badly, and I can't teach you exactly how to make your teammates play better because here are too many potential causes and strategies to avert them and
every player will be better at adopting certain coping strategies to help than others. However, there are some ways you can control the uncontrollable.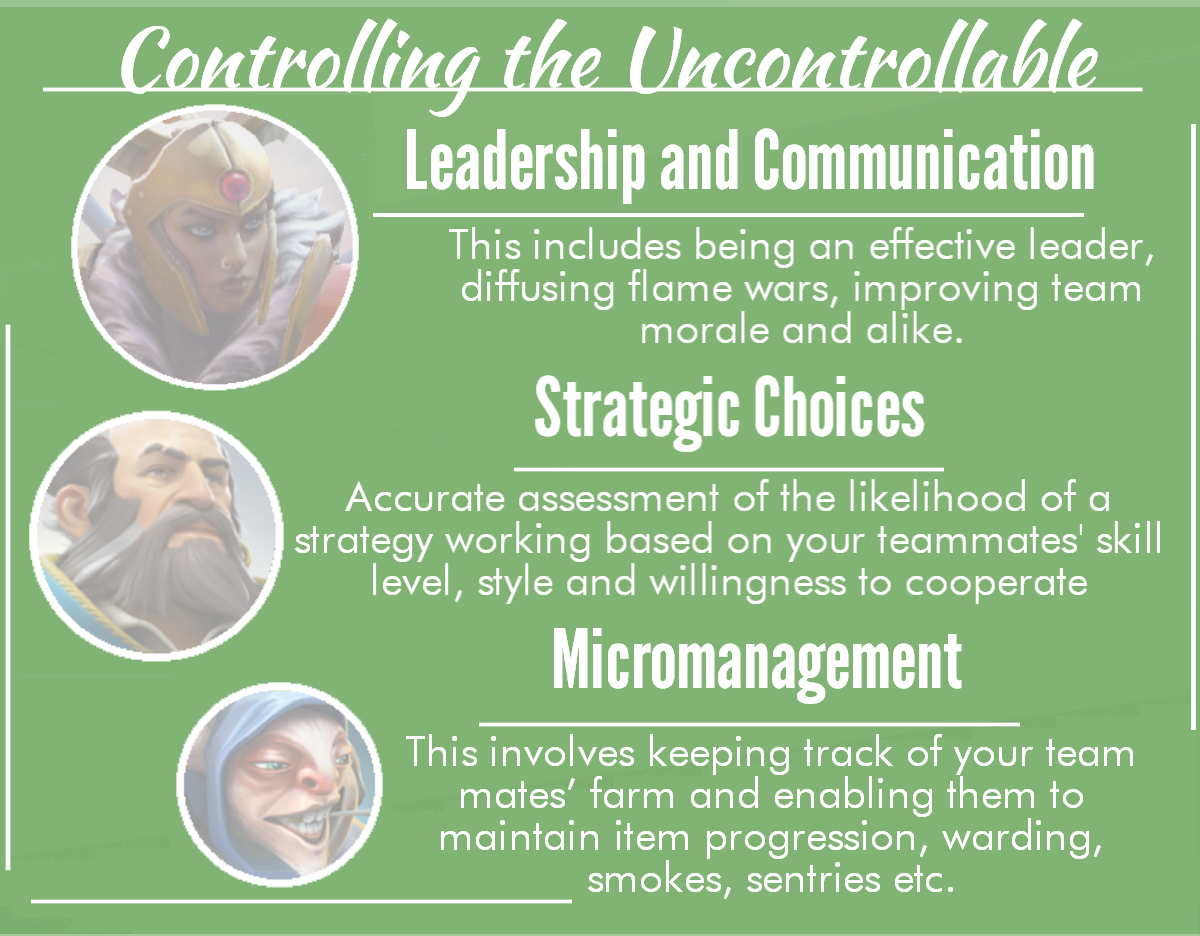 Fig 3. Controlling the Uncontrollable- Three broad categories of decision making will enable you to best facilitate your team to play better. The most important involves promoting positive communication with your team, which will allow you to make better strategic decisions, and better manage farm and distribution of resources.
Assess yourself as a player: Look out for ways you can help your team, and play to your strengths. If you are not a strong leader or confident in your ability to lead and make plays, then don't. Look for more passive ways to improve your team morale, by facilitating communication and presenting options. If you are a strong leader then be confident, people will always be more willing to follow a leader who talks like they know what's up, but don't be cocky about it.

Assess your teammates as players: I am an Australian playing on SEA, and there's a huge contrast between players on Australian servers who are very vocal on the microphone (often to a fault) and SEA players who tend to communicate much less vocally. Any player who has played with me can work out very fast that I am in my comfort zone when I am leading, as I am often the only player talking in the microphone. By assessing your teammates you can better predict their tendencies, strengths and weaknesses. For example, when you see a player is clearly a leader, you can facilitate them by taking a less active role in shot calling. This can be difficult if your teammates' preferences conflict with yours, so you need to judge whether it is more valuable to facilitate your teammates or to let conflict ensue; oftentimes, the first option is the best.
The value of enjoyment/Rules to ladder by
Happy players play better, for longer. Just as losing streaks can cause the downward spiral, so too can win streaks improve your focus and confidence, as during win streaks mental stress is generally lessened, freeing up more mental energy to dedicate to your play. How happy you are is usually a very good indicator of whether you should queue for ranked or not.
Here are a few rules I live by when playing ranked:
Always warm up with unranked games. personally my mechanics suck unless I warm up my hands with an unranked game or two. This isn't for everyone, but if you notice a significant increase in your mechanics after a few games, this could be beneficial.

NEVER queue after a bad loss, or after a few losses in a row. Your brain needs time to get over the mental stress of losing. They say that time solves all things, this is true for matchmaking too.

Do not 'chase' your losses. This is also called the gambler's trap. Don't requeue purely because you lost the last one and you want your MMR back. Queuing like this shifts your focus away from playing well; focusing on MMR is a quick way to lose it.

Watch your replays. Hindsight is 20/20, and you may see obvious mistakes in your replays which were not so obvious at the time.

Think outside the box. After every game, think of at least one way you could have improved, no matter how well you played or how badly your team did. Look for the reasons why your teammates played well and how YOU could have helped them.

Exercise. Fitness is good for health, brain chemistry and giving you headspace.

Dont play when you are sick, angry, distracted, hungry, or over-caffeinated. These are all stress factors you can control, and they will affect your play if you don't respect them.

Develop good interpersonal relationships- Make friends, significant others, etc. It improves your quality of life and gives you opportunities to learn how to interact positively with others. (I think its pretty evident Dota players need to work on this)
Carry your team, not your ego.
This guide will be useless to you if you do not focus on self-assessment. Discard your ego, it will only ever lose you games. You can be confident, but remember, you make mistakes, and you can ALWAYS improve. Specifics on how to use the knowledge in this guide to self-assess and improve is the topic for another guide in itself, but this guide provides a framework which will enable you to properly analyze and discover those specifics on your own.
SPECIAL THANKS
Writing this guide has been a journey for myself, and I learned a lot writing it. I want to thank a few people for their support and understanding in reading multiple drafts and revisions.
Mangos
Jobodo
Arena-Neverdie
Shoutout to AUI_2000, Day[9] and all the content creators whose content I have referenced in this guide.
Gos4lyfe
---
CREDITS
Writer: gaijindash
Editors: tehh4ck3r, TheEmulator
Graphics: gaijindash, Julmust