The long awaited playoffs for the Dota 2 Asia Championships have finally come, and with the prize pool nearing $2,900,000 this event has surpassed TI3 as the 2nd largest prize pool in Dota 2 history. After a grueling 5 day group stage as well as 2 rounds of tiebreakers for the twelfth and final slot, the teams were decided for the playoffs.
The games last night started off with a bang as the top eight teams faced off in the Upper Bracket of what many have come to think of as a mini-International. After a strong showing from the Western teams during the group stages, the rivalry between East and West evened out last night with two teams from each region advancing to the Upper Bracket semi-finals. Tonight we will see those teams fight again for a spot in the Upper Bracket final and a guarantee of at least 3rd place, along with the accompanying prize of over $250,000. Afterward, we'll see the first elimination matches of the playoffs as the losers of last nights games face the 9th-12th place teams in the only Bo1 matches remaining at DAC 2015. You can find the schedule on our
Calendar
or
LR Thread
.
Playoffs: Day 1 Bracket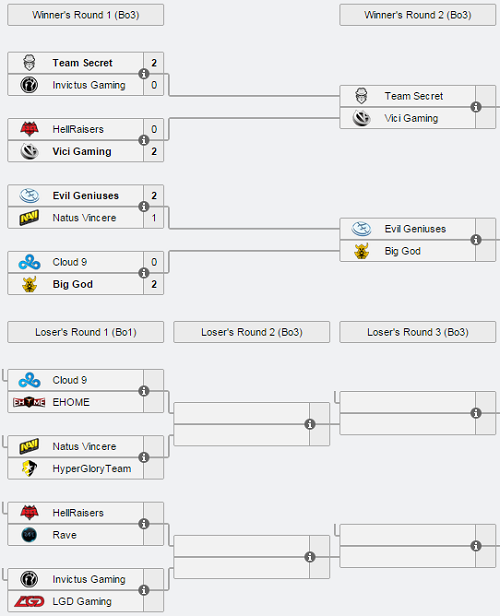 Last night's games kicked off with a dominating performance from
Team Secret
as they took out
Invictus Gaming
in two quick games lasting only an hour total. Interestingly, this brings Team Secret to 17-0 so far in the tournament, which is the second longest single-tournament win-streak behind LGD at TI2 who stopped at 19-0. Secret managed to secure Arteezy's Shadow Fiend in both matches, bringing him to 15 Lycan and Shadow Fiend games out of 17 this tournament. In game 2 he crushed Ferrari_430's Storm Spirit in the mid-lane, netting a solo kill on him early on and nearly doubling his cs at 5 minutes. Secret also opted to draft the greedy Enigma in both matches, opening up some space for iG to potentially dominate the laning phase. However, that never happened as Zai was able to win the solo off-lane against weak dual lanes both games, allowing Puppey to farm up an insanely fast Mek twice. Secret was basically untouchable, and are still looking like favourites to win it all.
Big God
vs
Cloud 9
was a bit closer than the previous series, and far more interesting. The first game was undoubtedly the most epic of DAC 2015 yet. Cloud 9 started off with a respectable lead, taking advantage of the quick blink on FATA's Axe who was leading in networth. After multiple pick-offs on BurNing's Medusa creating an even larger lead, the game was seemingly over in the eyes of most viewers. However, after C9 failed a high-ground push with Aegis, Big God was able to extend the game a bit longer. They were able to hold multiple times, eventually catching up on many fronts. Cloud 9 eventually got a good fight and destroyed the majority of Big God's base, but they got wiped in the process. BurNing then bought a Divine Rapier and Big God bolted down mid, winning the ensuing base race and thus the game. The 2nd game Cloud 9 was clearly already on tilt, drafting one of the worst lineups of the day. 5th pick Vengeful Spirit in that situation, really guys? Even though Big God made quite a few misplays, specifically some missed ravages from RotK, Cloud 9 didn't have enough damage in the end with Bone7 comically giving away more duel victories than he won himself. Big God took the series 2-0 and knocked C9 down to the Losers Bracket.
For the third series,
Evil Geniuses
were able to comeback from a 0-1 start against
Natus Vincere
and win the series 2-1. The American team has had some major changes since TI4, but they are slowly proving to be one of the strongest teams just like they were at TI4. Na`Vi took the first game on the back of Xboct and his Phantom Assassin, in a classic 4 protect 1 style of play where Xboct crashed through the fragile EG lineup crafted around Drow Ranger and ranged auto-attack damage. EG managed to brush off the abrupt loss, and came back to win game 2 even harder than Na`Vi won the first. Universe was on Phoenix which proved to be a devastating combination with Overgrowth from PPD's signature Treant Protector. The real story of this series however was EG's new 15 year old superstar mid-laner, Suma1L. After a rough game 1 on Invoker, he bounced back on Tinker of all heroes game 2 and was able to show off his world class Storm Spirit yet again in the third game, completely dominating every phase of the game. After the close 2-1 loss, the once-kings of the Losers Bracket Na`Vi will see how far they can go in the coming days.
The final series was
Vici Gaming
vs
Hellraisers
. After iG, Na`Vi and C9 all failed, Hellraisers were aiming to be the first team to score an upset based on the group stage standings. However, this series ended up looking a lot like the Secret vs iG series, at least in terms of how commanding VG/Secret were in their dominance of their respective opponents. VG were able to 2-0 Hellraisers with both games being as fast as the first series of the day (25/33 minutes). We got to watch Super on his signature Ember Spirit in both games completely dismantle Hellraisers from head to toe. If anyone is going to put up a fight to Secret it will most likely be Vici Gaming from the looks of it. With this 0-2 loss, Hellraisers will join the other teams in the Lower Bracket where they will hope to stave off elimination tomorrow.
Next games start in:

Recommended games
If there was ever a game that you absolutely must watch, game one between Big God and Cloud 9 is it. Throws, comebacks, emotions, big plays, this game has it all!
Big God vs Cloud 9
CREDITS
Writer: TheEmulator
Editors: Sn0_Man
Graphics: Ninjan