Turn off Focus Mode
Focus Mode
Strategy over Skill: Alliance Ascendant
A History Piece or Something, by Ver
For all that Dota is acclaimed to be a team game, the best teams of past years have all possessed a monopoly on individual talent. Dream teams win, that's the rule. EHOME in 2010 and iG in 2012 had strong cases for having the best players at every position, while DK and CCM in 2011 respectively boasted the best player in the world and a mostly all-star lineup. Even in 2014, the all-star DK team that boasted the best or second best player in every position dominated up until the International, while the other dream team Newbee won it. With this precedent, the contenders for TI3 were obvious: iG, LGD, DK, Tongfu, Na`Vi, the usual names with their incredible players or great leaders. Yet 2013 was an anomaly: it was the first and only year where the championship was decided by strategy and superior insight, not individual brilliance. In a manner that seems so natural, so obvious to us now, Alliance took the world by storm.

If anything, they possessed a dearth of individual talent: Loda and Akke were ancient players who performed with mediocrity at TI2: s4, Bulldog, and EGM were new, unspectacular at first, and unproven; an anathema in a scene dominated by 4-plus year veterans of Dota 1. Suggesting that Alliance would win TI3 back in late 2012 is analogous to claiming that Iran will become a world superpower in 20 years, or that an unknown Mongolian boy would conquer the world and become Genghis Khan. Past champions like EHOME and iG had great strategies, but when every player on your team is a Messi or Ronaldo, brilliant strategies are a luxury, not a prerequisite. For Alliance, they were life or death.

Alliance didn't just have a strategic advantage at TI3; they were a quantum leap ahead of every other team. They outfoxed their opponents so fully that most fans came to believe in the illusion that western strategy was ahead of the east as a whole. But this was a lie, there was no western advantage in strategy; the east still created most of the dominant concepts for TI3 and held a general tactical advantage over every team save Alliance and Na`Vi's own hybrid ideas. Unfortunately for them, Alliance was just that much more brilliant than everyone else. This is a tale of the means that a team of underdogs used to become the dominant force in Dota.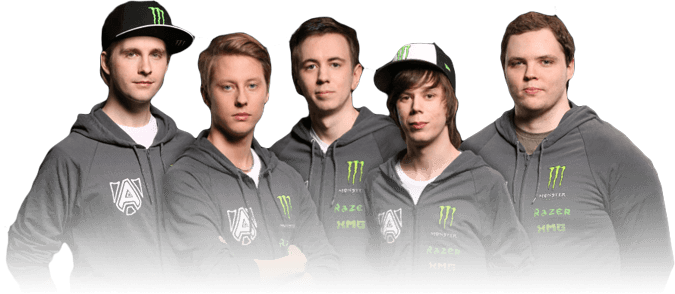 Alliance's power comes from their excellent distribution of resources and farm between the team, a clear tactical mindset and goals, and strong execution.
After analyzing all of Alliance's G-1 and TI3 games, one pattern became very apparent: they had an absurdly high margin of error. Alliance was no robotic team that won with machine-like precision or always performed obviously better than their opponents. They made copious amounts of mistakes, got picked off often, and didn't always coordinate perfectly. Alliance got outplayed on multiple occasions for portions of a game. But these mistakes almost didn't matter at all. Even when they fed, Alliance barely seemed to fall behind.

On the other hand, once most teams took a single bad engagement, even when already ahead, the game would start to spiral in Alliance's favor and never stop. Many times it seemed unfair: the efforts that Alliance needed to get ahead were very disproportionate to the result relative to other teams. Alliance could build a bigger lead from one victory than other teams could from several.

In part, this advantage came from what Burning called their "excellent distribution of resources." Alliance rejected the philosophy of poor supports who sacrificed their growth to accelerate that of the cores. Instead of choosing a lineup that peaked at a certain timing, Alliance favored lategame split-push oriented heroes that could be groomed under the cover of farmed supports and controlling mids. Furthermore, Alliance continuously rotated farming priority based on the situation, demonstrating a level of elegance no other team could match. Depending on their needs, 4th position supports could be found with protected safelane farm, while the 1st position carry might be left to fend for himself killing ancients at level 3. Though this is a somewhat accepted concept nowadays, few teams have managed to replicate Alliance's intricate resource management for more than a couple games.

Lastly, Alliance also displayed better tactical understanding than any other team. They always had an in-game battle plan which accounted for the relative strengths and weaknesses of the lineups, and even the abilities of their players. As a result, they consistently made better team decisions and exploited opportunities other teams didn't realize existed.
The unstoppable Alliance spiral, a frequent sight in most games.
Alliance employed several distinct concepts in 2013, but the analysis here will focus chiefly on their preferred strategy that they used in the vast majority of important games, which reached its culmination at TI3. In brief, it always featured Loda on a fast-farming carry that excelled either at split-pushing or teamfights, s4 on a tempo-controlling mid who could initiate, AdmiralBulldog on one of his two core heroes, and at least one if not two good farming support heroes. One such example is below:
Alliance - Radiant





vs
Team DK- Dire





Though this lineup may not seem particularly complex, it hides an immense amount of sophistication. Alliance's philosophy for TI3, while somewhat reliant on a small pool of heroes, was overall a major advancement in Dota strategy. To reward Alliance's ingenuity, they have received the rarest of honors in Dota: having Icefrog nerf their strategy into oblivion.
Yet do not mistake this with merely the split push nerf. Alliance's success was not because of some nonsense labeled "Rat Doto". They were hardly the only team to realize the power of the split push. The Alliance difference came from how they used specific drafts and farming patterns to enable their split push engine to safely come online every game. By choosing lineups that always peaked slightly later than their opponents, they retained freedom of action and forced the other team to stay on the clock.
Farming Priority
While much attention pre-TI3 was given to the successful dual-core of Loda/AdmiralBulldog , the cornerstone of Alliance's strategy was their farmed supports. They stabilized Alliance's lineup when its greedy dual core heroes were at their weakest, and give Alliance an extra safety net if one or two lanes went awry. Though saying "give the supports more farm" sounds simple, it hides immense practical difficulties. Where does that farm come from? How do the supports use farming time efficiently? How do you stop the enemy from taking advantage of your defensive farming posture? What happens if your cores get ganked while the supports farm? Why give your supports farm instead of better-scaling heroes?
After TI2, the rest of the Dota world struggled with these questions and came up with a very different solution: don't give the supports any farm at all. Up until patch 6.79 forced major strategy changes, the poor, decrepit support had mostly dominated Dota strategy for years; without first explaining this philosophy, Alliance's innovation can't be fully understood.
Why give this guy farm, when you can give this guy more farm?




In the early-midgame of 2012-2013, supports were most commonly seen camping behind their mid, covering their carry, smoking for a kill, or moving to secure an area for your team to farm and deny it for the enemy. They almost never sat and farmed by themselves for long after they quit pulling creep camps into the safelane between 8-12 minutes.
Usually supports would stay off the map because it made the enemy uncertain of their movements. If the enemy dared to backstab one of your cores, they could easily find themselves counter-initiated upon from the fog and see a safe 3vs1 gank turn into a 3vs2, stalling long enough for tp reinforcements and a 3vs4 rout. Or the opposite could be occurring: enemy supports might well be smoked up and moving to kill your carry farming. In the face of such uncertainty, most teams adopted similar stances and made their opponents confront the same conundrum. If you can't present the same threats to your opponent by staying off the map, they will always be playing with an edge and be able to gank or farm with more assurance.
Should a team allow their supports farm elsewhere in order to maximize their farm, the carry will inevitably have to play more carefully and lose out on killing creeps due to the potential of a gank. Thus there was a simple choice: give everyone some farm, or give core heroes more farm. As almost all core heroes scale exponentially better than support heroes, teams almost all came to the same conclusion that if there has to be a choice between sacrificing support farm to increase carry farm or vice versa, it's better to forgo support growth from the very start.
The typical life of a support: MMY/X!!/Dai covers Burning and allows him to safely farm. He stays out of Alliance's vision to maximize the threat of a gank or counter gank, but as a result he remains dead last in creep score.
In this picture, Alliance has 4 heroes off the map. busily farming their jungle. For all DK knows, Alliance could be smoking on Burning top lane, making it very risky for him to farm there. DK's solution is to sacrifice the growth of one of their supports to give Burning a safe lane to farm. If Alliance initiate on Burning, MMY will be able to disrupt them from the fog long enough for reinforcements to arrive. Meanwhile, simply with Rubick staying out of sight, Alliance has to play a bit safer knowing he could be anywhere.

The result of this farm distribution is that the core heroes get very far ahead, while supports fall way behind. The gap between the 1st and 5th position heroes is often massive: 5+ levels at the minimum during the midgame, and potentially 20 times the creeps. The logic here is that if you can sacrifice a support's gold and levels to give the carries extra, the carries can repay the supports by winning fights and killing the enemy's high leveled carries, thus allowing supports to regain relevance.

As DK refined this paradigm to a greater degree than any other team at TI3, they represent the best contrast with Alliance.
Closely examine this discrepancy: Burning, even in a dual-core lineup game 1, took half of the entire team's farm for himself. He item maxed at 35 minutes - an extraordinarily quick time for a disadvantageous game - while his team stayed relatively poor. On the other hand, QQQ ended the 55 minute game 1 with the sole defensive item of a Quelling Blade to escape from Prophet's Sprout and brown boots.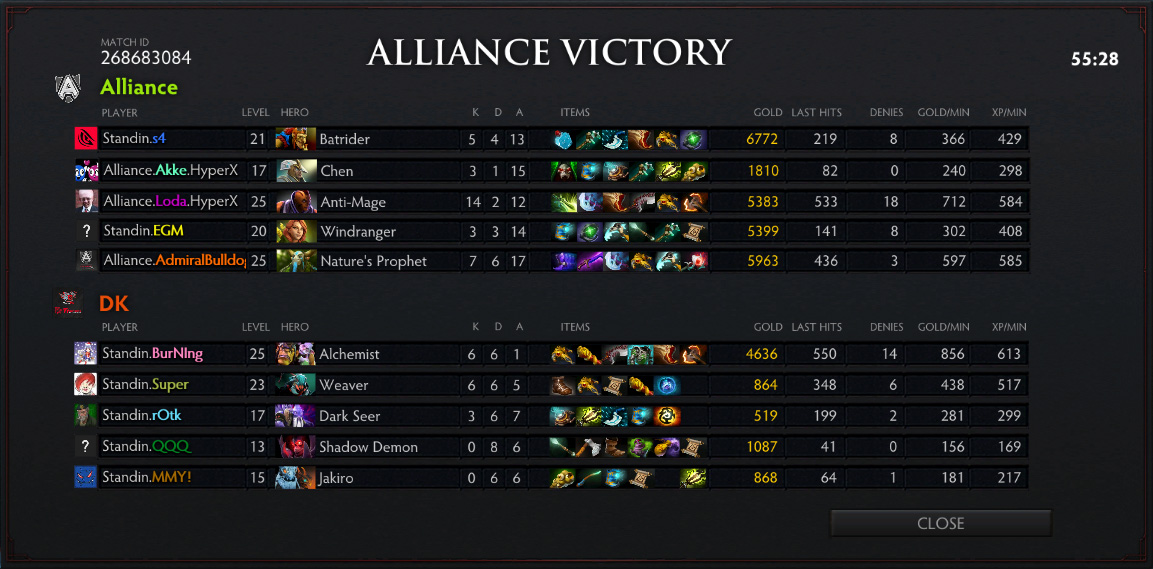 Alliance/DK game 1
Now contrast this picture with the state of Alliance's supports at the end of their game 2 loss: EGM possessed Treads and a luxurious Heaven's Halberd.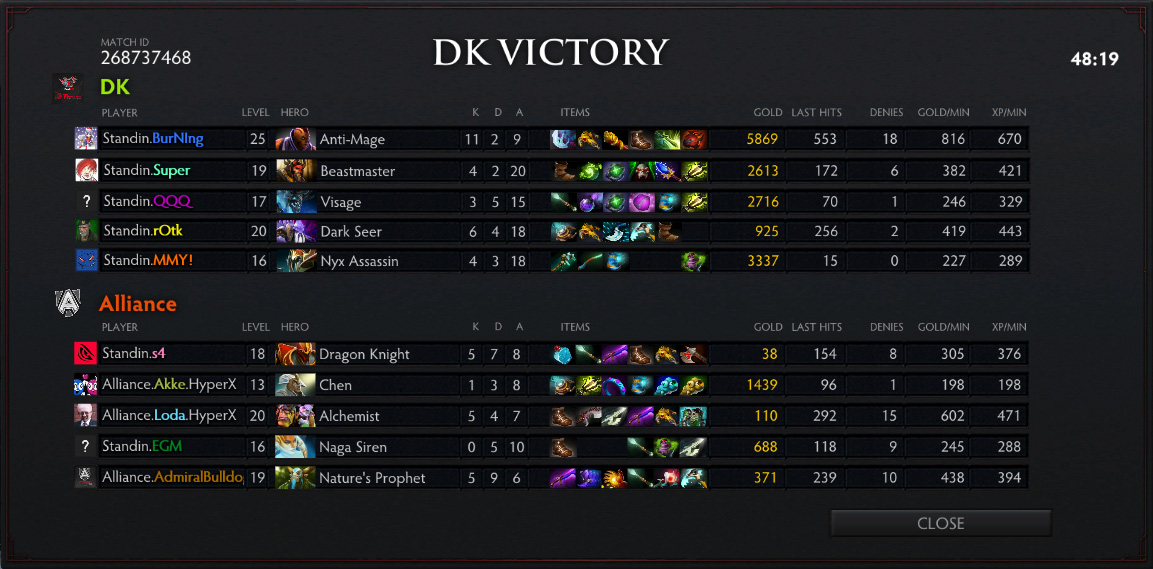 Alliance/DK game 2
Support Survivability
The downside with the poor support style is that if you don't win fights, your supports remain permanently backwards. This starts a dangerous downward spiral where the supports cannot even stay alive or use all their abilities in a won fight to reap the rewards and catch up. This problem compounds in lategame teamfights where a team has 2-3 powerful heroes plus two bystanders who exist merely to cast a spell and die. In short, it is a risky style that demands the utmost precision from support players and great teamfight coordination.

Alliance vs DK game 1 is a perfect example of this strategic contrast: Alliance's bourgeois supports against DK's destitute duo.
Super chased Akke from DK's Tier 2 tower to Alliance's Tier 2 after DK won a fight, yet fails to kill him before his team can heal and reinforce.
On the other hand, in the previous fight Loda simply had to glare at MMY and QQQ and they dropped dead. The reason is not hard to see: Akke alone has more than the combined networth of MMY and QQQ, despite the overall gold between teams being even. His extra level over the DK supports, and far superior items made the difference in surviving a lost fight and an inevitable death. As a result of this difference born from Alliance's superior farm distribution, Alliance could frequently make far better use of won fights than their opponents.

No matter how perfect a support's positioning may be, if their team loses ground in a fight, at least one is probably doomed if they each lack items and levels. MMY, then as in now, was one of if not the best support in the world, but skill will only take you so far if you don't have any items or levels. Out of MMY and QQQ's 14 combined deaths that game, 12 came from being unable to save themselves when an enemy ran at them during a fight or a post-battle flight. On the other side, Akke and EGM together died a tiny total of 4 times.

Furthermore, because DK's supports had little means to protect themselves, Alliance could save all their disables for DK's Alchemist and Weaver. On the other hand, DK needed to snare or disable Burning's targets while also blocking any initiations on Burning. It could be done, and DK did win a fight upon achieving it, but they found the gargantuan task quite difficult to consistently execute.

After reading all this, one might wonder how every non-Alliance team could've been so oblivious as to neglect their supports. Like most things in Dota, it is not just black or white, but many shades of grey. Alliance's paradigm gave them certain advantages, most notably in margin of error, but left them weak in other ways. If DK conducted fights near-perfectly and granted Burning the freedom to run around the battlefield whacking Alliance to death one by one, DK would win every time because Burning was so much stronger than anyone else for most of the game.
If their opponents could create that perfect teamfight, Alliance could very easily lose despite possessing higher levels and better items. Because Alliance lowered their carry farm to allow the supports a piece of the pie, their carry heroes would do less output in a vacuum than an opponent who sacrifices their supports to fuel the carry. In short, if everything in the fight is executed properly and BKB charges are still high, the popular paradigm would generally win because their cores, who scale better with farm, are stronger. Though LGD may have been a shadow of their former selves at TI3, they still proved to be very proficient at executing their trademark lategame ideal engagements.
Despite being 12k experience and 20k gold behind, LGD still manages to find that ideal engagement and wins decisively.
Though Alliance's hero choices allowed them to create early level advantages and win chaotic teamfights, they faced problems if their enemy could create ideal, controlled battles. This conundrum was an inevitable result of Alliance's high margin of error strategy, as well as their preferred mid and support heroes. Nothing that a Keeper of the Light, Chen, or Clockwerk can do, regardless of any farm advantage, will ever replace the effect that a perfect Impale/Carapace, 3 man Telekinesis, Reverse Polarity, or Vacuum into Wall can have on a battle. Alliance normally neglected powerful teamfight heroes like Magnus, Enigma, or Dark Seer, instead prioritizing efficient farming or early-midgame initiation heroes like Puck and Clockwerk.

Barring this flawless execution, however, Alliance would keep snowballing ahead because every won fight would translate into extra dead heroes for DK and LGD. Naturally, the reverse was not true, as Alliance supports fled multiple times whereas a Chinese support in a similar situation would have just keeled over. Outside of one perfect teamfight by DK, this is exactly how Alliance eventually won. DK's supports could never stabilize due to their poor finances and kept dying in teamfights no matter how brilliantly they played, while Alliance's supports continually grew stronger because they didn't fall over from the enemy carry giving them an angry glance.

The starved support paradigm did not originate because teams they thought supports just weren't important: it was the seemingly inevitable answer to a lose/lose scenario where somebody's farm had to be gimped. Alliance was the first team to show a way in which supports could obtain farm without sacrificing too much growth from the rest of the team. In addition, their alternative had several hidden benefits.
Margin of Error
MMY and QQQ's cover allows Burning to safely farm here despite the threat of a smoke, but s4 lassos QQQ from a smoke instead. MMY is an inch away from being able to Telekinesis s4 but can't close the gap in time.
Though Burning and MMY reacted almost instantly to the gank, their counter-initiation was just slightly off. Burning had tossed a casual Spectral Dagger for harass and farm about a second before seeing s4. If either MMY had been slightly closer to QQQ or Burning had saved Dagger for about one second longer, s4 would have been lifted, Lasso stolen, used, and killed while his teammates could only flee. Alliance's would have completely wasted a smoke, put Loda and Akke well out of position, and gave up gold and map control with nothing in return. In short, DK's approach, which was a more refined version of most teams', could work extremely effectively. If MMY is in range to lift Batrider here, the game goes completely differently, but tiny circumstances meant that Alliance increased their lead further instead of losing it.

The point here is not to illustrate that Alliance got lucky. This is Dota, a game of chaos and a large number of variables. The key is to realize that Alliance's philosophy towards the game forgave mistakes much better than any other, a concept relatively ignored in Dota strategy by most teams until EG in 2014. To fail the counter gank was simply crippling for DK, because they got almost nothing in exchange for it outside of allowing Burning to farm a few extra creeps. Now, compare that to what happened when Alliance got ganked.
DK successfully ganks Loda with a 4 man smoke, also allowing Burning to safely farm a lane.
Look at the position of Alliance when this occurs: the entire team is farming their jungle. It may hurt that their carry died, but that is hardly crippling. Alliance still profited somewhat from the loss. During TI3, Alliance got ganked a shocking amount for a team who went 23-3. Na`Vi, in contrast, got ganked far less frequently, and DK even less than them. However, because Alliance often had 4-5 players farming at once, the ganks almost never became crippling. And of course, whenever Alliance dodged enemy smokes and still squeezed in more farm, they zoomed ahead.

Furthermore, Alliance also favored heroes that had more leeway in salvaging dire situations, particularly their ideal support picks of Chen and Naga. By prioritizing their first picks on these two heroes, Alliance ensured that their supports could efficiently farm and still save their cores from ganks. For Rubick to effectively stop a gank, he has to remain very close to the target when he has no certain knowledge a gank is coming. He can rarely just react to a gank that already started and teleport in. On the other hand, due to the range and instant effect of Naga's Song of the Siren, EGM could often afford to be farming elsewhere and simply teleport and cast Song if an Alliance core got ganked.
DK catches s4 out of position again, but even though EGM is not camping nearby, he saves s4 anyway with a timely teleport and sleep.
Chen's Global Heal naturally allowed him to assist beleaguered allies anywhere on the map, and his Test of Faith send-back also gave Alliance another "get out of jail free" card.

In short, Alliance's highly unusual support and mid hero combinations allowed them to extract more resources from the map than other teams thought possible. Their supports could cover core heroes without needing precise positioning and could farm at a fast pace of their own. Finally, Alliance adjusted their farming patterns in such a way that the enemy would have to group up 3-4 heroes to gank just 1-2 of theirs, allowing the rest of Alliance peace and respite. They never allowed a scenario where multiple Alliance heroes died at separate places on the map. Yet these reasons alone were not good enough to overturn the starved support paradigm
Rotating Farm Distribution
Even the best pro teams at the time had a very simple farming distribution: the first position was the most lategame carry, and he got pampered like a king, with supports sitting behind him shining his boots all game long. From there it goes down the line to the fifth position, who was stuck following behind the cores like a beggar all game. These positions were determined by lanes and heroes, and they rarely changed throughout a game.

Alliance, on the other hand, possessed an intricate and flexible farming priority that continuously rotated throughout the game. Alliance appeared to see the game in terms of timing windows and periods of strength or weakness. As a result, they frequently prioritized different heroes at various points in order to maximize their value to the overall tactical plan.

For example, in a preliminary game versus LGD.int, s4's Batrider is given safe mid farm until he obtained his Blink Dagger. Then he is rotated elsewhere so EGM's Naga can use the lane to reach his crucial level 6 and Arcane Boots. As usual with Alliance's structure, farm was fluidly rotated between all heroes on the team depending on their needs. Whether it be KotL's Mek, Bat or Puck's Blink, or a support's level 6, Alliance knew exactly what was needed for the moment.

Alliance utilized the jungle better than any other team because their supports actively farmed instead of mostly shadowing the carry. This meant that their carry got slightly less farm, but that their supports got far more. The team as a whole killed far more jungle camps than any other team. In addition, they would send core heroes to farm the jungle while supports that could not innately farm the jungle on their own would take the lane. As a hidden benefit, this reversal of roles allowed them to rapidly switch between offense and defense, because core heroes would rarely be seen.

For example against LGD.int, EGM's support Naga was farming the safelane in the 10-20 minute period, while the rest of Alliance's heroes are off the map. As the enemy team, you likely won't have wards in Alliance's forest that early, so you don't know whether Loda's Alchemist/Gyro and s4's Batrider are simply farming the jungle or smoking on your carry with Akke. If the positions were reversed, say Loda farming the safelane and EGM off the map, the threat of the gank is much weaker because you know it won't involve the carry. Thus simply by having a support farm a lane, Alliance creates a serious threat that forces the enemy to group or play safe, while they can simply farm away. Yet because Naga is also scales well later on, letting her get farm pays big dividends.
Alliance makes a bold 4 man gank.
Had Alliance attempted this gank on Chen with just a Naga, Batrider and Venomancer, they likely would have faced instant TP's from Beastmaster and Rubick along with Spectre's Haunt, turning a kill on Chen into a disaster. However, because Loda's Gyrocopter is present as well, LGD.int doesn't deem it worthwhile to save Chen. LGD.int would need their entire team to defeat Alliance's 4, and the teleportation time it would take for such a maneuver made it prohibitive. Thus just by bringing Gyrocopter along for the ride, Alliance snags a free kill and tower without reprisal, while also forcing Spectre to relocate as well. Had Gyro been farming and Naga participated in the gank - LGD.int may feasibly have counterinitiated and crushed Alliance 5v4.
Support Naga again farms the safelane, while LGD.int's supports cover their Spectre..
LGD.int sees EGM's Naga (yellow) farming bottom lane alone, with the 3 non-Prophet members of Alliance off the map. LGD.int's supports closely shadow Spectre, afraid of another possible gank by Alliance's cores. Instead, Alliance simply farms all of their jungle and pulls further ahead economically. This method also allowed Alliance to utilize more of the possible farm than any other team, as most supports cannot farm the jungle effectively that early. Thus they had leeway to give up extra kills or towers because their overall farm always remained superior.

If one is not yet convinced of the strategic brilliance of Alliance, this specific idea here is living proof of how far-reaching their innovations were. In TI3, giving a support got safelane farm at any point was unheard of. In parts of 2014, it was rather common to see teams like DK or VG give a support substantial lane farm while hiding the location of core heroes in the fog, a complete reversal of the old approach.
Lineup Synergy
So far, this article has focused on explaining the foundation of Alliance's support farming shift, how they made it possible to avoid the perceived flaws of giving supports farm, and the consequences of their style. Now, the pieces will be brought together, and the true genius of Alliance's drafting and resource allocation displayed.

What are the broader effects of giving supports farm? So far we have seen that it allows the team to absorb more mistakes before truly falling behind. It also prevents a spiral of death where the supports become fodder every fight and can never recover. However, your team is more exposed early on when its formation is very loose. Furthermore, as mentioned earlier, supports scale much worse than core heroes, hence why they get stuck as supports. In the two Alliance/DK farming charts above, Alliance's cores were well behind DK's, while their supports had more than double the networth of DK's.

Put simply, an Anti-Mage scales exponentially better than a Keeper of the Light does. It would take several KotL's with 20k net worth to match the impact of just one Anti-Mage with the same 20k gold. On the other hand, though we rarely consider it, there is a point in the game where support heroes scale better than carries, however briefly it may be. A 4th level in KotL's blast or Windranger's Powershot can make much more of a difference for a small timing window than letting your Anti-Mage grab another point in stats or Blink will. At levels 7-9 Chen becomes one of the strongest heroes in the game, while a Phantom Lancer will do very little. Every playoff game, Alliance got their supports to these key levels faster than the enemy. Thus, they created a window where their supports were the most powerful heroes on the map, and made use of that to create room for their greedy lategame to flourish.

In short, Alliance used their over-farmed supports to cover a timing period when their dual-carry heroes were vulnerable. Furthermore, they milked the fighting advantage of their early-peaking supports to secure extra lategame investment that other teams would never consider. Specifically, Alliance continuously made two key purchases on both their cores almost every game: Hand of Midas and Shadow Blade.

Nature's Prophet fell out of favor for most of 2013 because the enemy could punish him during the first 20 minutes, when Prophet's main contribution to teamfights is just his ultimate and cleanup potential. Yes, he could forego Hand of Midas and rush a Mekansm into Scythe, but that would leave his split-push and teamfight damage severely gimped while still requiring vast amounts of farm. With that build, why bother running a farm-dependent Prophet instead of a selfless teamfighting monster like Dark Seer?

Yet AdmiralBulldog's Prophet was different. Though a great Prophet player in a vacuum, a large reason for his TI3 dominance was his team being able to let him safely obtain a Midas and Shadow Blade nearly every game. To understand how troublesome it was to play against, let's invert it and examine the extreme precision and skill needed to gank the Bulldog Shadow Blade Prophet.
MMY used Vendetta to scout Alliance's forest and arrive at his lair undetected. He lay in wait over 50 seconds, plus the extra 20 of transit time.
MMY carefully judged that the creep equilibrium would not budge, and that Bulldog would teleport up top to grab the farm. The creep wave bottom was too close to the radiant tower, and middle was too contested. Burning (AM) and Rotk (Seer) had to be near the area as well in order to ensure the kill. While it doesn't look that special to an amateur, this was an extraordinary kill due to the massive risks and foresight required. As such, this type of ambush happened once to Bulldog in all of TI3
In summary, it was far, far more difficult to stop the Shadow Blade Prophet split push than it is to execute. If Alliance could get Bulldog online, they would place themselves in a very comfortable position. But again, how could they get Bulldog's astonishingly greedy Midas → Shadow Blade online, with Loda also getting a Midas and maxing Greevil's Greed first? This investment mentality was not limited to Nature's Prophet either: while other teams gave up on a Radiance Lone Druid if there was even the slightest farming hiccup, Bulldog's motto was "Radiance or bust." When he had free-farm, he got Radiance. When he had no farm, he got Radiance anyway. Even Burning, the all-time Lone Druid god who won 9 trophies on the back of a Radiance Bear, opted for a Maelstrom instead when under pressure. If Alliance was so successful with playing so greedily, why did nobody else take this approach?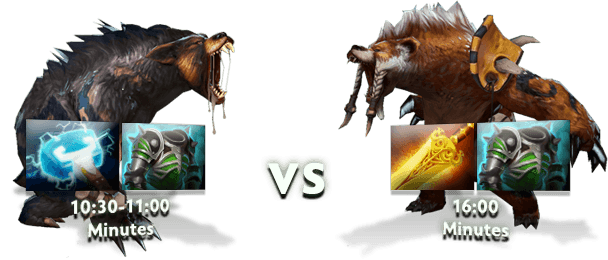 The dominant strategy of TI3 was to force 4-5 man fights after the laning phase to punish any kind of weakness. Most teams tried to cover this level of carry greed by having their remaining core hero rush a Mek, even on a normal fighting hero like mid Alchemist or Outworld Devourer. Instead, Alliance took their lategame investment further by choosing a flexible playmaking core like Bat, Puck, or Clock, and leaving Mek for a support.
In doing so, they rejected one of the biggest strategic developments of 2013: the Mekansm arms race. Because teams would group up after a fruitful laning phase and try to bash each-other's heads in, getting a Mek faster than the enemy would give massive teamfight superiority. Teams took this arms race to the extreme, trying to get that extra 30 second Mek edge, even going so far as rushing Mek on a first position Razor. The outcome of many
games
was heavily influenced by a fight when one team had finished their Mek first. Against Alliance, DK even had their mid Alchemist get Mek instead of their Chen, just to get it a couple minutes faster. Yet what worked against every other team didn't matter against Alliance.
While Alliance couldn't match the 9-to-14 minute Mek's most teams would obtain, their rich supports could usually farm a Mek by 16-to-22 minutes. Thus, Alliance got extra value out of their core heroes by not having to resort to rushing a Mek, while still getting a Mek at a reasonable time due to their over-farmed supports. Alliance often survived the initial Mek disadvantage due to their overleveled supports. In addition, Alliance made extremely economical ganks early on, delaying the enemy attack and often preventing them from really utilizing their Mek advantage effectively. s4 had a special knack for getting kills without devoting a lot of resources: he would often kill an enemy core with just himself and one support, while other teams would devote 3-5 heroes just to kill even one enemy, due to the fear of reprisal. Alliance rarely cared about reprisal though: who fears a counter-gank when you have Song of the Siren or Chen's sendback?
On the other hand, Loda's Gyro went more typical builds like BKB → MKB → Satanic, and his PL, a greedy pick in itself, went combat-ready items in Drums → Diffusal. Outside of Lone Druid, Alliance weren't rigid about their picks and builds; they just had an uncanny sense of exactly how much mid and lategame value they could invest in without losing ground in the first twenty minutes.
This investment also explains the downward spiral teams found themselves in after losing a single major engagement to Alliance. Because Alliance was investing so much in items and heroes that peaked 30+ minutes in, any ground lost in the period of Alliance's relative weakness - the first 20 minutes - meant that there was no catching up. Alliance's farming power, split-push, and lategame combat potential were simply too strong if they were allowed to get there. In addition, Alliance often ran a support hero who could transition into a high-impact hero later on, most notably Naga, but also Windranger and Enchantress. Yet despite this lategame emphasis, the Swedes still had the stronger fighting power early on due to their fat supports. Overall, Alliance's strategy seemed too good at all points in the game.
Essentially, the avaricious Alliance proved that lategame investments were feasible if other heroes on the team could cover the period of weakness. Many teams focused on strategies that all peaked at a certain timing, but Alliance's overfarmed supports were stronger at early timings than a focused 5 man lineup, and their greedy split push investment lategame outweighed the strong Chinese dual-core teamfight-specializing lineups. Thus Alliance was able to enjoy the benefits of both worlds: they focused on a powerful split-push and thus gained an overall increase in farm, while still retaining a mighty 5v5 teamfight power early on.
To demonstrate this, In the first game against LGD, Alliance was able to force a very early Roshan even while running a far more late-game and split-push oriented team against LGD's midgame teamfight-oriented 4 protect 1 lineup.
Alliance - Dire





vs
LGD - Radiant





The fact that Alliance succeeded in this Roshan endeavour with Phantom Lancer, a very weak carry in these 10-20 minute fights, shows how more advanced their strategy was. Other pro teams gave up on Phantom Lancer after the 6.78 nerf to illusions, as he just didn't do enough damage to warrant his very weak early game. Game 3 of the LB semis between DK and Orange aptly showed the inherent problems in PL strategies. By the time PL became combat ready, DK had already lost a set of barracks. Yet here, Alliance could win a 5v5 fight against a team that was much stronger at teamfights this early in the game. Their supports did so much heavy lifting that a weak early carry like PL could be run.
After Akke and EGM kick Xiao8 out of the lane, EGM kills the pull camps by himself, while Akke farms the eastern side of the jungle with Bulldog.
The main offlane trend from TI2-TI3 was to simply abandon the offlane and to farm the jungle instead if the enemy ran a strong defensive trilane. Teams became more sophisticated at securing the safelane, so rather than aiming for scraps and risking death in the offlane, many offlaners just gave up and farmed the jungle. This way, even though the enemy safelane carry gets free farm and a free tower kill, supports can usually just farm two or three pull camps, while the offlaner grows very quickly in the safety of his own jungle.

Alliance took the strategy against offlane abandonment to its logical conclusion. First, they prioritized powerful laning heroes like Crystal Maiden, Keeper of the Light, Naga, or Visage, along with a strong fighting jungler like Chen or Enchantress. These picks made any offensive trilane against them a poor proposition, hence why Alliance never ran into any problems of losing a 3v3 defensive trilane and starting the game from behind. As a result, Alliance normally had their preferred defensive trilane, and the enemy usually abandoned the offlane.

With the offlane abandoned, most teams will usually have both supports pulling together or make one rotate to help mid. Instead, Alliance tried to leave the pulls to just one support while having the other farm elsewhere in the jungle. By doing so, Alliance could farm more of the jungle than any other team, thus giving them an overall lead from the start. Akke's Keeper of the Light also farmed the offlane with long-ranged blasts once Bulldog had enough levels to clear Alliance's jungle between respawns. As a result, Alliance could farm every lane and their entire jungle each minute, while LGD's inefficient heroes merely farmed two lanes and half their jungle. In summary, Alliance picked heroes to make abandoning the offlane the best choice, then exploited that by farming far more efficiently than their opponents in the jungle.
The carry and mids of both teams are equal, but Alliance's offlane and supports have a combined 6! level advantage over their counterparts. The kills didn't affect this because the experience also went solely to Clockwerk both times.
EGM's 4th position Visage even had more networth and two extra levels over Xiao8's miserable 3rd position Beastmaster: a result of Keeper of the Light going into the jungle/offlane and leaving all pulls for EGM. EGM sported a Chainmail and a Medallion, while the best any of LGD's three poorest heroes could afford was a Magic Wand; Bane didn't even have his Ultimate. In the actual fight, LGD effectively initiated and caught Bulldog out of position, but the rich Prophet simply bought back and LGD's position collapsed despite a reasonable Reverse Polarity. LGD's heroes melted, while Alliances' were barely scratched. Akke didn't even have to cast Blinding Light, as the weakness of Sylar's teammates prevented him from actually fighting.
Sylar has to run despite having several juicy RP'd targets, as his fragile team already died or fled.
This single victory put Alliance 7500 gold and experience ahead and in total command of the game, for it Alliance won a fight when LGD's lineup needed to dominate.. Despite multiple Alliance positioning mistakes along with brilliant movement and execution by LGD later on, they just could not regain map control. Alliance's massive split push power finally came into effect, and LGD were forced to lock themselves in base.
LGD's excellent playmaking almost recovered the kill discrepancy, yet could not close the farming gap.
After seeing the experience graph, LGD's potential comeback felt like a herculean task. After all, only two heroes on LGD were farming while the entire Alliance team merrily gobbled creeps. Alliance's 4th and 5th position heroes had the same farm as LGD's 3rd position Beastmaster! Even when LGD did win teamfights, Alliance simply bought back to avoid losing position and continued their reign of farm. With their safety net of farm and split push, Alliance could afford to blunder repeatedly, while any mistakes LGD made were crippling.

Though this example was extreme because of LGD's poor Beastmaster development, it effectively demonstrates the synergy of Alliance's lineups and tactics. Phantom Lancer and a Midas+Shadow Blade Prophet are some of the weakest heroes in the first 15 minutes, but also among the best later on. Their limited early contribution was compensated by Alliance's well-farmed other heroes. s4 snagged two early kills, restricted LGD's farming space, and was a constant thorn in fights. Akke blasted almost the entire LGD team, and EGM's farmed Visage was the decisive force in the early Roshan teamfight.

Even though LGD may have had objectively the better heroes for that timing in terms of abilities, Alliance's heroes were much tankier and their abilities were closer to max skill level thanks to their better levels and items. The extra savings also gave Alliance the option to buyback and teleport or be recalled during the fight. LGD could have managed the teamfight better, but proper execution for that fight was far harder for LGD due to their farm disadvantage.
By eating trees and secluding himself in the woods, Akke's Kotl finds farm even in heavily contested lanes: "leave no creep untouched."
In summary, Alliance's innovative farming during the early game elevated their supports to make a large impact for a certain timing window between roughly 10 and 20 minutes. They then used that timing to defend a tower or force an advantageous fight, creating more space for their cores. Once the investment in lategame split-pushing heroes has paid off, Alliance could leisurely coast and be forgiven even if they make a multitude of errors.

Overall, Alliance proved that farmed supports combined with an early-peaking mid hero could more than overcome the weaknesses of lategame split push heroes early on, a significant advancement in Dota strategy. The weaker fighting value of these fast-peaking heroes lategame was almost irrelevant due to the power of Alliance's cores and the significant farm advantage Alliance accrues due to their better split push. Because their 2 split push cores could keep the sidelanes always pushed, that resulted in safe farm in midlane and their jungle for the remaining 3 heroes. Plus, some of their supports could transform into high-impact lategame heroes, especially Naga.

The best way to tell the difference of the farmed supports would be comparing Alliance's Winner Bracket victories over Na`Vi, then watching Na'Vi's complete demolition of Alliance in game 2 of the finals. In the finals, Na'Vi banned out Alliance's four farming support heroes. Thus Alliance got stuck with destitute supports like other teams normally would have. Even with Loda and Bulldog mostly freefarming, Alliance had no way to stabilize and win an engagement like they could with a Naga or Chen several levels higher than the enemy supports. Akke never even reached his crucial level 6 when Alliance gg'd at 20 minutes!
They had no Naga sleep to save them when they made mistakes, and while Visage excels in the early-midgame, he didn't have the usual extra levels to pull his team through. With a Visage and Venomancer support combination, Alliance could not conjure extra farm as early as they could with a Keeper of the Light or jungler. Instead, both supports had to split the pull camp farm, and Akke even rotated to help the beleaguered s4 mid like a traditional support might. When this desperation move didn't help, Alliance had no fallback hero to save them unlike normal. For the first time in the main tournament, Alliance was mortal.
Alliance - Dire





vs
Na'Vi- Radiant





Unlike most of Alliance's other games, when somebody died versus Na'Vi, only two Alliance players were farming (Loda/Bulldog). Furthermore, those two heroes - Spectre and Prophet - are at the weakest in the first 20 minutes. In previous games, it would be Alliance's core heroes, the least useful early game, who fell behind early. With pressure on the lategame cores, the remaining Alliance heroes, who all peaked early, could easily bail it out.
Here instead, it was Na'Vi who ran the jungle Enigma and gave Kuroky's Wisp solo pull experience. Thus in the 10-15 minute fights Na'Vi's 4th and 5th position heroes had extra levels, while the imbalance of the Batrider/Beastmaster matchup middle, compounded by Wisp rotations, meant that s4 was kept horribly behind for the first time in the main tournament. With Na'Vi having the support farm advantage and Alliance having no farmed mid or support heroes to rely on, Alliance crumbled just like so many teams had against them previously.
Additionally, there is a direct comparison for how well Alliance's dual core split-push would work without the support emphasis. Though not exclusively, Orange often ran very similar drafts multiple times during TI3, except their supports followed the normal paradigm and only shadowed the carry or ganked, leaving them underleveled and broke.
The key battle of Orange/Na'Vi in the WB RO8. Note Orange's grossly underleveled supports.
What can a level 4 Shadow Demon even do here? A Sand King that gets ahead is a terrifying force that the enemy must run from, while a poor Sand King simply Burrowstrikes and dies. Because Orange's supports were so backwards due to shepherding their carries, they could not offer the midgame might needed to safely escort their dual-core past the point of vulnerability.

Now contrast Alliance's strength at the same timing window:
Right before the key battle of Alliance/Na'Vi, WB game 1. Compare the levels of Alliance's supports here to that of Oranges' above, despite the video taking place 2 minutes earlier.
Though Bulldog's Bounty Hunter pick didn't allow Alliance to play for the lategame split-push like the Prophet normally did, the supports still made the strategy work. By leveraging the impact of the farmed Chen and Naga, Alliance could feasibly force fights in that window of opportunity and snowball off of Track gold. Even though Na'Vi's early-midgame movements had been impeccable throughout the tournament, they were unable to win key fights primarily due to Alliance having an early 4th position Mek and much higher leveled supports.

Unlike many other teams who just accepted a bad situation, Alliance never put a support in a position where they were so far behind they don't even have their ultimate. If necessary, they would give that hero first position farm priority just to ensure that they weren't dead weight. Yet all of this assumes that the early game would go according to plan without a hitch. What happened to Alliance when their plans go awry?
Plan B
LGD vs Alliance WB Quarterfinals Game 2
Alliance - Dire





vs
LGD Gaming - Radiant





Here, Alliance's dubious offensive trilane ended up as a complete disaster. At the professional level, this type of early lead alone is often enough to give a team firm command of a game, especially one of LGD's caliber. Alliance's reaction to this dire situation was peerless, then or now.
Loda was essentially told to fend for himself while the rest of Alliance farmed their woods and safe lane. Imagine that, a 1st position hard carry Gyrocopter being told to beg for food. How many teams could have the type of mindset to conceive of such an idea on the spot, and how many big-ego carries could accept being thrown to the wolves? Loda earned a grand total of 1 level in 4 minutes of tickling the ancients at level 3. To compensate, Alliance rushed EGM's downtrodden Naga to level 6 quickly, then rotated Loda back into the safelane.
Meanwhile, the 3rd position Nature's Prophet gave up the lane in favor of farming the jungle. Alliance wasn't concerned so much about what heroes got the highest priority farm as much as increasing their overall farming rate in order to reach maximum team resource potential for the crucial midgame clashes. Naga cannot farm the jungle on her own and Prophet can, thus Naga got the better farm in lane while the more important Prophet has to be content with the jungle. Prophet may grow less quickly in the jungle, but this decision gave the largest combined growth between Naga, Crystal Maiden, and Prophet. Most teams would have simply left Gyro or Prophet in the safe lane and stuck Naga and CM doing pulls together. With such an approach, the supports likely would not have reached level 6 for the crucial fight.
Of course, while Alliance was greedily farming, LGD was on the prowl. They hit multiple ganks and taught Alliance that greedy farming with the entire team was not tolerated. Yet when a single one of their 3 man smokes missed, the Swedes reduced a 2,000 experience lead to just 500. Even when LGD assassinated Akke, Alliance farming all three lanes and half their jungle meant that LGD merely gained 100 net experience and no objectives. Other teams would restrict their farming patterns after getting ganked just to be safe, but Alliance did the opposite: they farmed more. As a result, the focused 3-4 man types of ganks predominantly used by teams during TI3 didn't net any major advantage against Alliance.
With all the focus on Alliance's farming posture, it's easy to get the wrong impression: they didn't just sit passively and farm the entire time, they also looked for booty as well. The difference is that LGD's dd and ddc, just like most top supports then, continuously roved in search of loot. They either hid near a core hero and waited to counter-initiate, or moved aggressively in an attempt to gun down an exposed hero or two before help could arrive. Naturally though, this method lead to lots of wasted time: they had to wait for opportunities, and even if dd/ddc found kills, they often would have to return to base to regenerate their health and mana. Meanwhile, EGM could sit indefinitely farming without ever needing to waste the extra minute returning home.
In contrast, Alliance supports had two extreme postures: farm or gank. It was quite rare to see an Alliance support hiding in wait for longer than half a minute. Instead, Akke and EGM would idly farm, then rapidly congregate for a smoke. Alliance's cores did not get much protection, but their clever gank timings gave them extra security, and individual deaths were negligible when 4-5 heroes were farming at once.
A large reason why Alliance could feed and get away with it was the linear ganking style of the time. Because teams would group up for security, if you wanted to make a successful gank, you needed to group up as well. At minimum 3 heroes would converge on one location, often even 4 or 5. In 2014, 2 man ganks, sometimes simultaneously on opposite ends on the map, were not unheard of. Heroes were different, and teams were more flexible, not as Mek-reliant. This allowed teams to split up their heroes more, and resulted in the game being more open, often even in deathball games. But Alliance realized that if you had 4 heroes farming to the enemy's 1, and 4 of them kill one of yours, you don't get behind. It was also hard for Alliance's opponents to take objectives off of these kills because they only would kill 1 hero normally, and Alliance would be farming so much that they'd keep a positive creep equilibrium.
At the professional level an extraordinarily high value is placed on getting hero kills. For those who are only familiar with pubs, Pro teams are generally able to leverage just a handful of kills into very large gains. Unlike a pub game where teams can get dozens of kills and not translate them into anything meaningful, for pros just a couple hero kills can lead to additional towers, Roshan, advanced wards, and holding the initiative. Accomplishing all of these objectives can increase the available farming space while restricting that of the enemy, allowing the team to further grow their marginal advantage. Alliance was the first team in Dota 2 history to almost shrug off these incidental deaths early on in the game, as if to say: "people die, the game goes on."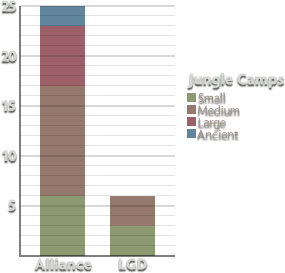 LGD did, of course, accomplish something with this trade-off: their cores got to farm the lanes more safely, and they netted several kills. Yet Alliance's incessant farming gave them a safety net that could tolerate a few deaths here and there without the team's position collapsing. LGD attempted four ganks, and Alliance was caught in two of them. Yet despite the disastrous start and good movement by LGD, Alliance didn't fold in the first major fight.
One major reason was due to their item flexibility. Bulldog's Prophet almost always went Shadow Blade as his first major item. However, with LGD so far ahead already, Alliance judged that to do so meant they would lose too much ground in the midgame. Bulldog instead obtained an emergency Mek, so they could focus their efforts into having a powerful teamfight instead of relying on their traditional split-push. They correctly anticipated that LGD would group up and try to expand their lead by forcing towers with their team, and directed all their resources to stopping that moment.
LGD seemed impossibly ahead, yet somehow wiped.
LGD severely overestimated their own lead. Though they may have won the trilane and made many successful kills, they did not realize how much Alliance's superior farming had reduced the deficit.

RP/Skewer is nullified by Bulldog's Mek.
Even though LGD's heroes peaked at this timing and they started off with a significant lead, Alliance's proper farming rotation ensured they could win 5v5's during the window when LGD would force them. LGD lost three fights in a row, and their position promptly collapsed due to Alliance's superior lategame.
Tactical Planning
Outside of a remarkable strategic insight, Alliance's other chief strength was their ability to devise and execute effective plans. In some cases, Alliance's plans simply looked more refined, albeit similar, to other teams. However, Alliance also saw possibilities that did not exist for anyone else.
Alliance vs DK - Game 1
Alliance - Radiant





vs
Team DK- Dire





Alliance did their homework on every team and demonstrated remarkable foresight in many matches. Game 1 of the Winners Bracket Semifinals between Alliance and DK is a clear display of Alliance's excellent tactical plans. As seen in the image above, this game DK employed a two carry strategy with a safelane Burning Alchemist and mid Weaver for Super, with DK's remaining farm going to Rotk's fast-Mek and teamfight specialist Dark Seer. Thanks to the almighty 2013 Batrider, Alliance would have the opportunity to make a few ganks no matter how well DK played; the question was on who. Rather than attempting the impractical task of keeping down Burning, Alliance efficiently used their resources to limit the growth of Burning's more gankable teammates.
Why was stopping Burning an impractical task? First, Burning was the hardest carry to gank in the world. One reason for this stature is his extraordinary game sense and ability to read enemy movements. The other is that this DK was the best at creating space for him with movement elsewhere, and frequently covered him in dangerous farming areas. Super, while one of the best mid players and rather difficult to kill, had to scrounge up farm on his own. Rotk, on the other hand, was known most for his penchant of living, or more often than not dying, on the edge.
The one time that Alliance did successfully gank Burning only happened because they used Batrider and Windranger as bait elsewhere to disguise the gank, and ended up losing 2 for 1. After that, they did not try again despite the fact that an Alchemist is much easier to kill than a Weaver with Linkens and later BKB. This respect for Burning continued for the entire series, yet despite Burning never getting ganked, DK still lost anyway.
Rather than smoking on Burning (pink on minimap) freefarming past the river at top, s4 and Akke gank Super under his tower.
Once again, Super gets ganked in a normally safe area while Alliance ignores Burning farming anywhere he wants.
The result of this focus on DK's 2nd/3rd position heroes was that when Burning somehow item maxed at 35 minutes, Super's Weaver merely could boast of a Linkens Sphere and an almost completed Black King Bar. Poor Rotk never completed his Scythe in the entire 55 minute game. DK's dual core with a farming teamfight Dark Seer was transformed into a quasi-4 protect 1. Furthermore, Super felt so pressured that he opted for an extremely defensive build, which meant that his damage and actual teamfight contribution was much lower than Bulldog's more farmed Prophet. Thus if Alliance could disable and kite Burning in midgame teamfights, they could leisurely kill the rest of DK because Super simply wasn't a huge threat and Rotk had no Hex.
Burning is farming blindly in the Dire woods, while the rest of DK huddles together. Instead of hunting Burning, s4 attempts a risky gank on Rotk amidst 3 other heroes.
Up until this moment, Alliance had been unable to gain any real advantage over DK. Here, however, they were able to steal DK's gem. After this massive acquisition, DK did not succeed in a single gank and had reduced farming space due to a lack of vision. It also later translated into Bulldog twice surviving in the middle of DK's team thanks to his Shadow Blade.
The fruit of [A]'s planning: Loda 3v1s Super, Rotk, and QQQ, killing Rotk and escaping.
Had Super been able to farm more freely and not been forced into two purely defensive items, Loda would not have been able to kill Rotk here. As it was, Loda merely swatted aside the flies, eliminated his target, and backed off with plenty of hp remaining. This small scuffle actually decided the game, because DK was forced into a 4v5 fight at Roshan. Though DK again secured the aegis, for the first time they lacked their critical Dark Seer teamfight component. Alliance may have been ahead most of the last twenty minutes and never in danger of losing with their mighty split push, but they had been unable to win any Roshan teamfights. Thanks to the 5v4 advantage, they finally managed to finally win a fight and turn it into another 5v3 win and two lanes of barracks.

Alliance's target choice in teamfights also switched as the game went on. In the midgame battles, Alliance heavily focused Super and continuously kited Burning around. Even with defensive items, a Weaver can do reasonable damage in the first 25 minutes with his innate abilities, while Burning lacked enough lockdown without a Basher/Abyssal Blade. Once Super obtained his BKB, Alliance largely ignored him, especially when had the aegis. They instead solely focused on the much more powerful Burning. Partially due to Alliance's attention on Super, Burning got 6-slotted before Super even finished his 3rd item.
The result of Alliance's earlier target choice: Super has BKB, Linkens, and Aegis, but with only an MKB at 50 minutes he does too little damage to take advantage of Alliance's focus on Burning.
Super's Linkens and BKB, which seemed so helpful when he was the target of Alliance's malice earlier, now sat wasted in his inventory. They also seemed superfluous as Burning item maxing left Super with the aegis. This resulted in a very powerful Alchemist who had no extra survivability, and an incredibly difficult to kill Weaver who did no damage. With an Abyssal Blade, Burning was much harder to kite and now demanded more disables than earlier. Had Alliance not pressured Super so hard, he could have obtained a faster Desolator, MKB, and Butterfly, thus doing major damage in teamfights. Instead, Super spent later fights splashing Loda and Bulldog with his super-soaker while Burning got focused down by 5 heroes. Once Burning perished, Super's extra defensive items barely made any difference at all. With expert foresight and judicious choice of targets, Alliance was able to maximize their advantage in a situation where most teams would have seen no opportunity at all.
---
Na'Vi vs Alliance - WB Finals Game 2:
Alliance - Dire





vs
Na'Vi - Radiant





The overall trend of 2012-2013 was for teams to eschew expensive, albeit powerful items in favor of getting immediate combat strength. Radiance, once the item of choice for many carries due to its incredible teamfight damage and farming speed, disappeared overnight. Mid-to-lategame impact heroes like Faceless Void or Morphling were replaced by early fighting heroes like BKB Gyrocopters or Shadow Blade Alchemists. The opportunity cost of a carry saving for a pricey item would mean that their team had to concede too much against the enemy Lifestealer who rushed a cheap and fast Drums → Armlet.
Like with Prophet, Alliance ignored this trend of getting combat-ready quickly if they felt they could get away with it. Just as Alliance's lineups allowed for Bulldog's Prophet to invest in a Midas and Shadow Blade before getting any kind of real battle item, Alliance altered their picks and plans to ensure Bulldog's Lone Druid could always farm a Radiance before the real fighting would start.
This theory was put to the test versus Na`Vi in the Winner's Bracket semifinals, where Na`Vi picked a fearsome midgame teamfight pushing lineup featuring a Dendi Tidehunter stabilizing a Prophet and Luna. In other words, it was a clash of philosophies: Bulldog was free to go for his Radiance, but only if Alliance would surrender every tower and Roshan, because they could not win any fight during the first 20 minutes before the Alchemist BKB and Lone Druid Radiance. Na`Vi planned to force Alliance into taking bad fights early on or give up towers. Then with the threat of a Wisp+Luna+Prophet global gank anywhere on the map and no outer towers to help reinforce, Alliance would lack space to farm and be forced to group up. As a result, Alliance had a nasty choice: risk early fights where Na`Vi was clearly stronger and let them snowball faster than a Tusk with 5 Meepos inside, or turtle up as 5 and watch Na`Vi's threatening global lineup efficiently farm the entire map.
This conundrum was exacerbated after Na'Vi's precisely executed trilane killed Bulldog and forced him into the jungle 4 minutes in. With Bulldog almost irrevocably behind and Na'Vi's fearsome deathball push strategy coming rapidly online, it looked as though Bulldog would be forced into buying a far inferior Maelstrom. Instead of flash-farming like a normal carry and pushing out the lanes to pressure the enemy side, Bulldog was forced to hold the creep wave at his Tier 3 tower to prevent Na`Vi's global Prophet/Wisp combo from teleporting on him.
It was the lowest kill game for the first 25 minutes of any in the tournament: 5-2. Both sides were so confident that their plan would work that had little need to force any unnecessary action. Instead of buying Meks on core heroes and cheap combat items like a Maelstorm Bear, Alliance sacrificed all 6 of their outer towers and the first Roshan while waiting for Admiral Bulldog to farm a Radiance and KotL a Mek. Once Bulldog's Radiance, Loda's (Alch) BKB, and s4's (Nyx) Blink Dagger finished, Alliance looked for a fight.
No other team in the tournament would have possessed the foresight to sacrifice every outer tower merely to stall for a Radiance. Anyone else would have attempted some kind of defense and opted for their Lone Druid to rush a faster Maelstorm to obtain some earlier combat ability. Then they would try to fight Na`Vi and would probably lose. Yet Alliance was so prescient that they understood that against Na'Vi's midgame push plan, it was worth sacrificing every tower if they could farm their items in time for holding the base or the second Roshan. In the key fight of the game for that second Roshan, Bulldog's Radiance hit all 5 Na'Vi heroes for a good 14 seconds in the main fight plus plenty more in the ensuing skirmishes. In all it added up to around 3,700 damage from the aoe burn alone, far more than any other item or hero could possibly have contributed. Even though Na'Vi had an impressive array of healing with Mekansm, Urn, Enchantress's Attendants, and Wisp's Tether, the Radiance burn overpowered it all and sent Na'Vi fleeing in death and disarray.
Like all other matches in the tournament, once Alliance won a single fight, things spiraled out of control. Na`Vi played their lineup specifically to win that exact fight, even having Funn1k's Prophet skip a Midas, yet Alliance won it anyway despite investing far more heavily in the lategame and being down many objectives. The most absurd part of this game was that it didn't even matter that Alliance
horribly botched a fight
two minutes earlier where EGM's Sleep saved Dendi from certain death: they could lose fights and give up kills, but their enemies couldn't. Na`Vi's strategy was great, their execution was great. Alliance played nowhere near perfectly, but they won anyway after a single good fight: it didn't seem fair at all. No wonder Na`Vi went into the finals totally confused and willing to adopt an extreme banning policy just to force Alliance into a different strategy.
The Final Result
As we have seen, Alliance was able to create unheard of advantages and large safety nets out of seemingly thin air. They drafted lineups that let them obtain overfarmed supports who covered the weak early game of very risky mid-lategame investments like a Midas Shadow Blade on both Alchemist and Nature's Prophet. At first glance their drafts may have lacked obvious synergy, but thanks to their farm distribution, Alliance's heroes could cover each other's weaknesses. In the end result, Alliance was stronger at nearly all types of fights and at most key points in the game, even against specialized enemy lineups designed to win in specific timing windows. They could out split-push other lategame split-pushers, they could out-deathball enemy midgame teamfight 4 protect 1's. out-teamfight enemy dual core teamfight lineups, and out-farm enemy greedy tri-core drafts - all with the same lineup.
Assortment of Drafts
Alliance - Dire





vs
Team Liquid - Radiant





Alliance - Radiant





vs
Orange Esports - Dire





Alliance - Dire





vs
Invictus Gaming - Radiant





Alliance - Radiant





vs
LGD Gaming - Dire





Alliance - Dire





vs
LGD Gaming - Radiant





Alliance - Radiant





vs
LGD International - Dire





Alliance - Dire





vs
Team Liquid - Radiant





Alliance - Dire





vs
Team Liquid - Radiant





Alliance - Radiant





vs
Virtus.pro - Radiant





Alliance - Dire





vs
Orange Esports - Radiant





Alliance - Dire





vs
LGD Gaming - Radiant





Alliance - Dire





vs
LGD Gaming - Radiant





Alliance - Radiant





vs
Team DK - Dire





Alliance - Dire





vs
Team DK- Radiant





Alliance - Radiant





vs
Team DK - Dire





Alliance - Dire





vs
Na'Vi - Radiant





Alliance - Dire





vs
Na'Vi - Radiant





Alliance - Dire





vs
Na'Vi - Radiant





With such a strategic edge, they actually didn't need to outplay their opponents to win. When Alliance won a single fight, that often gave them such a lead that let them close out the game by basic play. On the other hand, the enemy had to win multiple flawless fights and connect on many ganks to stand a chance. No team in Dota history has ever been able to create that degree of margin for error without cost. It was almost as if Alliance was playing a different game.
Many teams copied individual ideas run Alliance, but nobody could recreate the synergy of the Swedes. It wasn't just about abusing buyback to secure Roshan with Wisp/Prophet/KotL teleportations: Na`Vi tried that and lost the game in a single fight. Other teams also favored support Naga or Chen, but didn't use them in such a way to secure a greater lategame investment with extra levels and support Mek. Orange often ran the same dual-core split push heroes as Alliance, but never had the early-midgame power to sustain it. It also didn't hurt that Alliance put each player in a situation they found the most comfortable. For them, the whole became far more than the sum of its parts.
There were only two ways Alliance could lose with their brilliant strategy and tactical insight: the first was simply to ban out their support heroes, which was how Na`Vi made the Grand Finals games 2-5 an even contest. In game 1, Na`Vi banned Chen, Naga, and KotL in their first 4 bans, but then lost in <20 minutes because Alliance ran their farmed support strategy with an Enchantress pick.
In games 2-5, Na`Vi exclusively banned Chen, Naga, KotL, and Enchantress, willingly giving up Wisp or Batrider. Thus Alliance couldn't use their farmed support strategies because Na`Vi denied all 4 heroes they relied upon to make it work. For Alliance, the overpowered Wisp and Batrider were less important than those four aforementioned supports, because without them they didn't have a method to ensure a strong trilane and get ahead early through superior support farm. No other team discerned this because Wisp and Bat were so much better than any other hero that it seemed insane not to ban them. Even here, it is debatable whether Na`Vi initially figured it out or simply used it, according to Kuroky, as a desperation move. Yet it was the right call: here, strategy trumped imbalance.
The second was to make several tactically incorrect decisions when facing an opponent of extraordinary individual skill playing a perfect game, which was how they lost to DK in the Winner's Bracket Semifinals. Yet even in a sloppy defeat, Alliance looked stunning. Just like how Na`Vi ran an excellent strategy with great execution and lost after Alliance won a single fight, DK played one of the highest skilled games in TI history, and still almost lost anyway. In this game, with DK playing at their peak, they outclassed Alliance in nearly every way: better individual skill, the best carry in the history of the game playing his best hero, a more practiced strategy, and a thorough understanding of timings and movement. And DK still almost lost. Despite AdmiralBulldog dying a record 9(!) times on Prophet due to peerless ganking and Burning having absolute freefarm, Alliance pushed all the way to DK's base and came within a small margin of winning the game. Their overall strategy and framework was just that much better.
There were other weaknesses of Alliance's strategy, but part of their brilliance was that they made such a paradigm shift that teams couldn't begin to figure it out until 4-5 months after it was first unveiled. Chiefly, Alliance put an enormous weight on s4's shoulders because he was their only playmaking hero every game. Whereas other teams running a dual-core would have a support who could initiate like a Rubick, Nyx, or Sand King, Alliance's greedy supports sacrificed initiative and surprise for farming, fighting power, and defensive flexibility. This meant that if s4 fell behind and couldn't get a blink, Alliance lost their entire initiation potential. Yet all of the attention by other pros and the community on Alliance focused on their obvious dual-core of Loda and Bulldog. Those two shined so much that it hid the gears which made the strategy work. A couple months after TI3, teams began to pressure s4 more and ban out his safe mid heroes like Bat, Puck, Clock, and Nyx. When s4 got shut down, Alliance collapsed because their entire engine depended on him.
In addition, no team was able to figure out in time how Alliance abused the committed ganks and exclusive 4-5 man smokes to eek out an extra farm advantage. By spreading out and having 4-5 heroes always farming, Alliance ensured that the enemy could at best use 3-4 heroes to catch 2 of theirs. If the enemy didn't commit enough heroes, they were liable to get slept and counterattacked upon. This sophisticated map movement was the next paradigm shift forward in tactical movement, but it has been eclipsed by newer developments. Had Alliance tried this approach during 2014, they would have been severely punished by teams like DK who spread across the entire map in small groups, often ganking multiple areas at the same time. Yet for the time, it gave them a mysterious yet massive advantage that their adversaries failed to perceive.
In the end, Alliance toppled down from Mount Olympus not quite due to other teams figuring them out, but because Icefrog deemed they were too smart for the game's own good. When 6.79 came and forcibly took away the model of the starving support and efficient early jungling, Alliance was robbed of their greatest strength. Though they remained a good team in the past year, their extra edge that gave them such high margin of error was taken away by Icefrog, and their mortality now shown. Alliance may be in shambles now, but they forever deserve the glory of being the only championship team to win chiefly through outsmarting their peers.

---
Writing
Ver
Editing
Sn0_Man, TheEmulator, RabidCH
Graphics
Nixer
Images
Valve